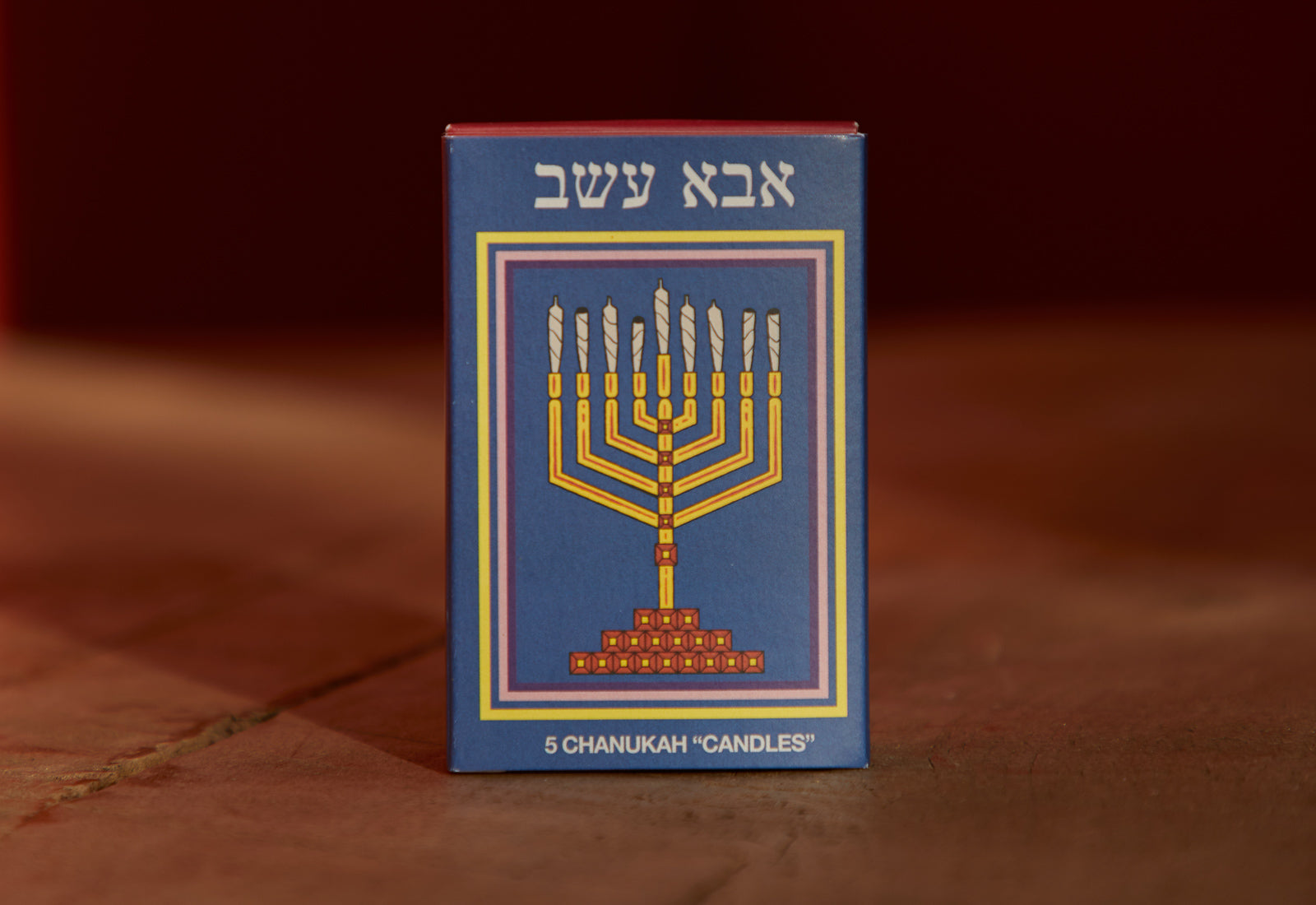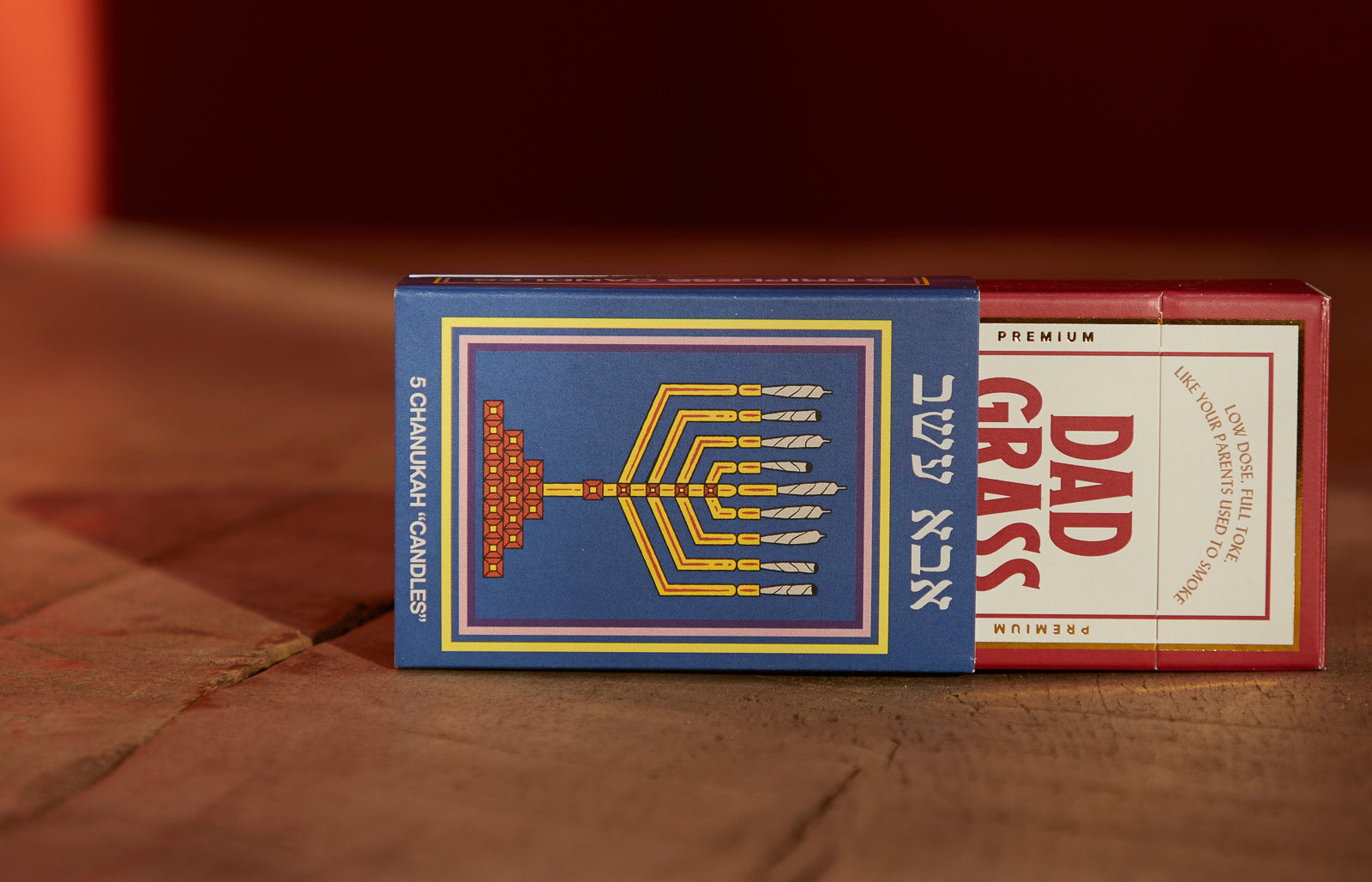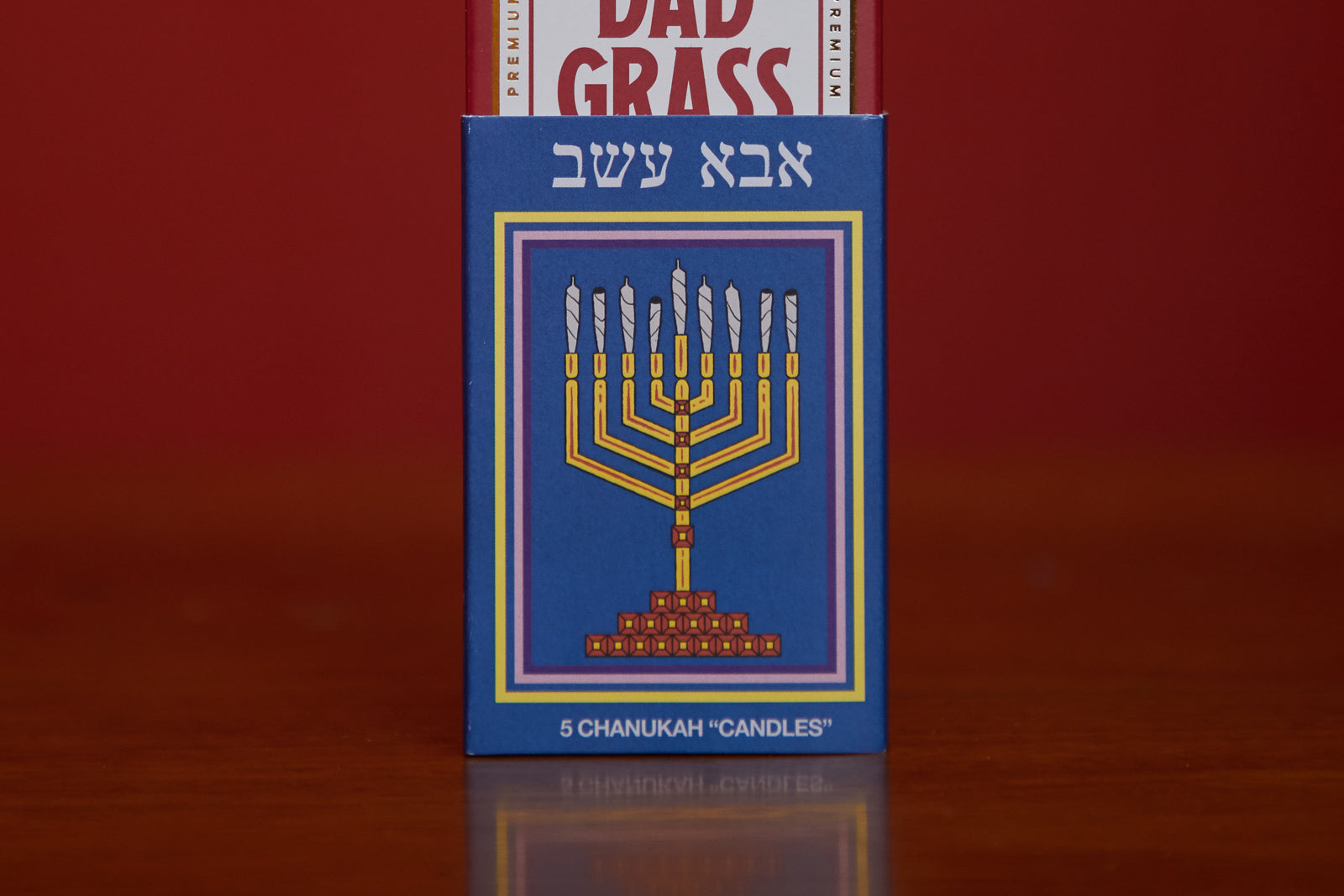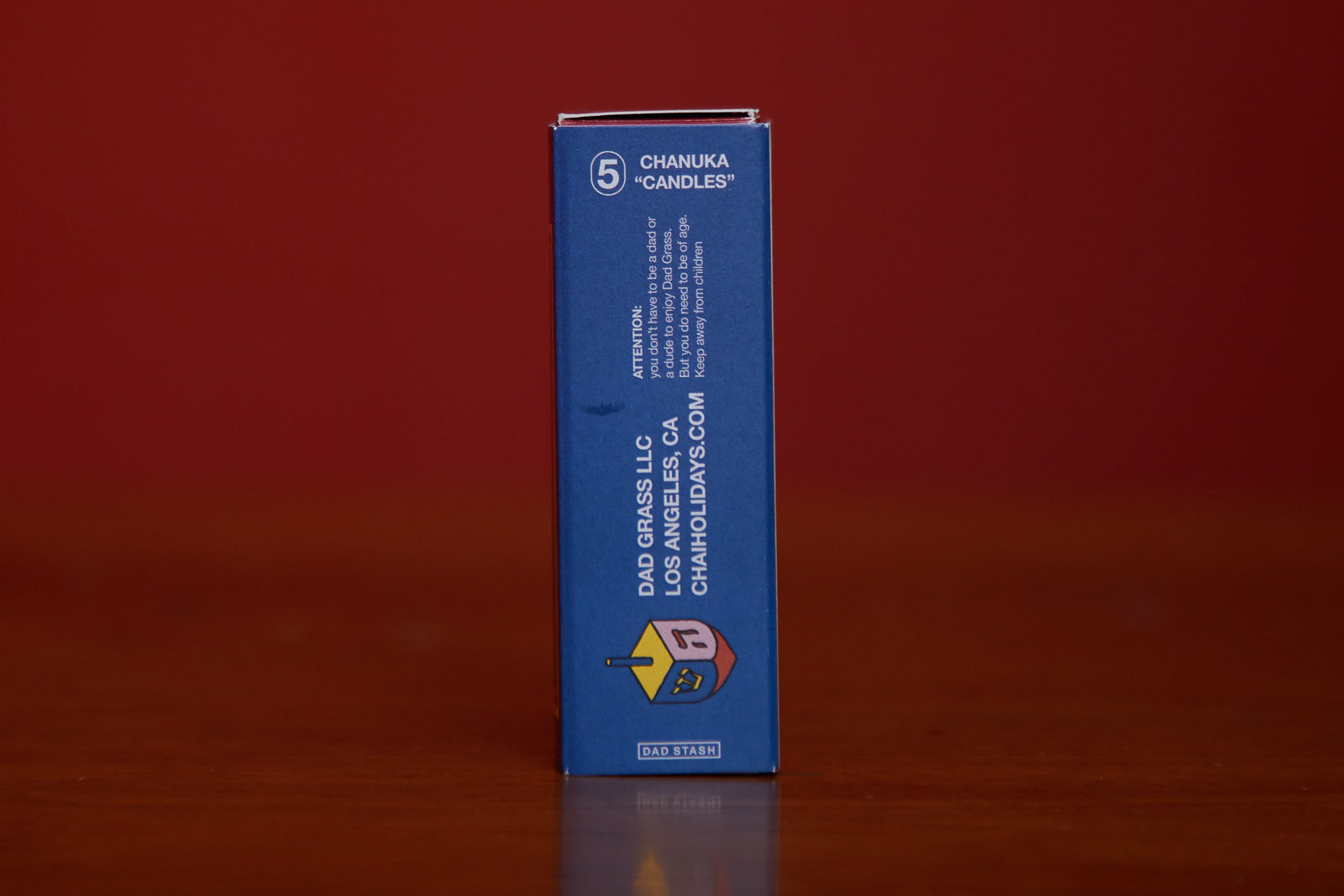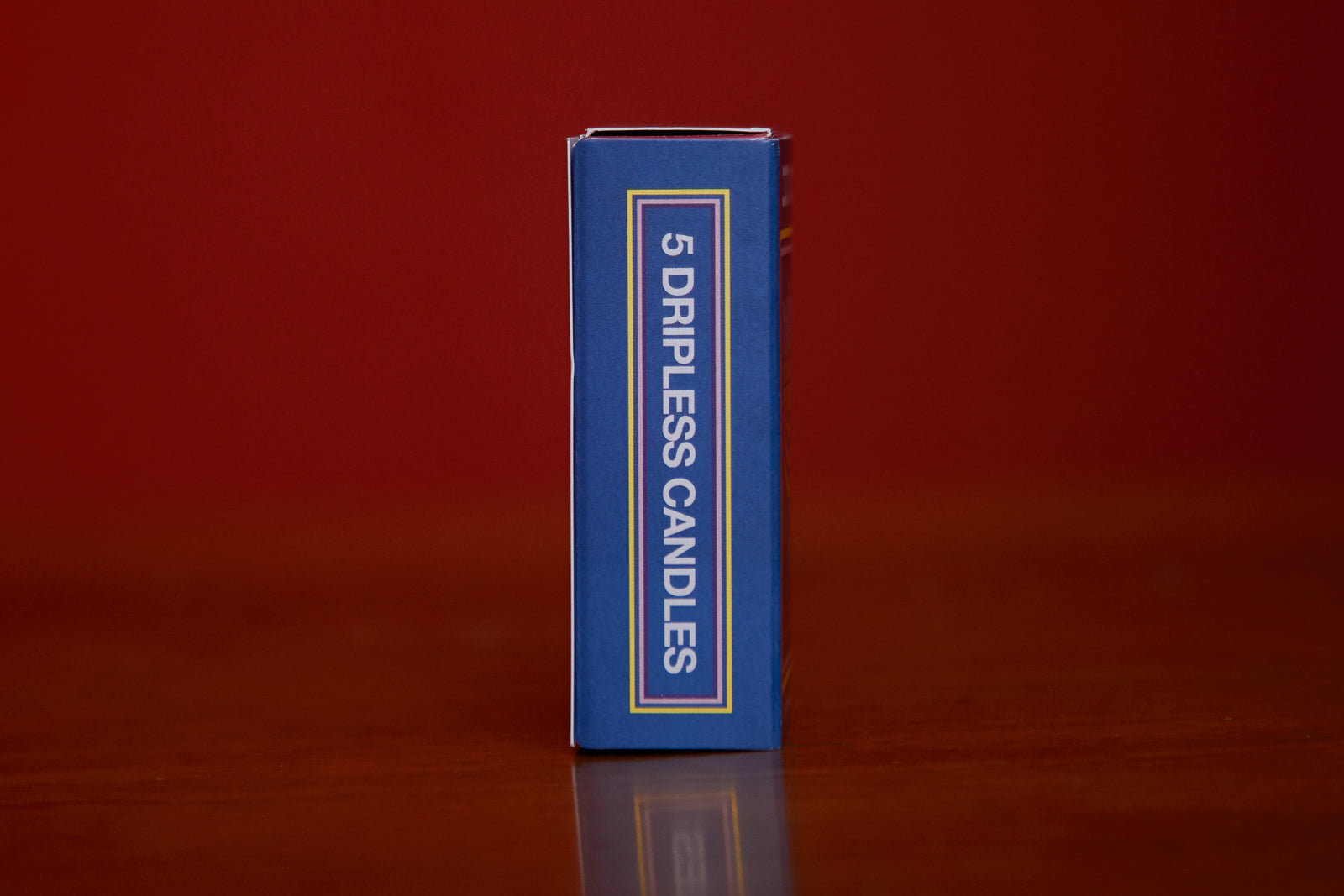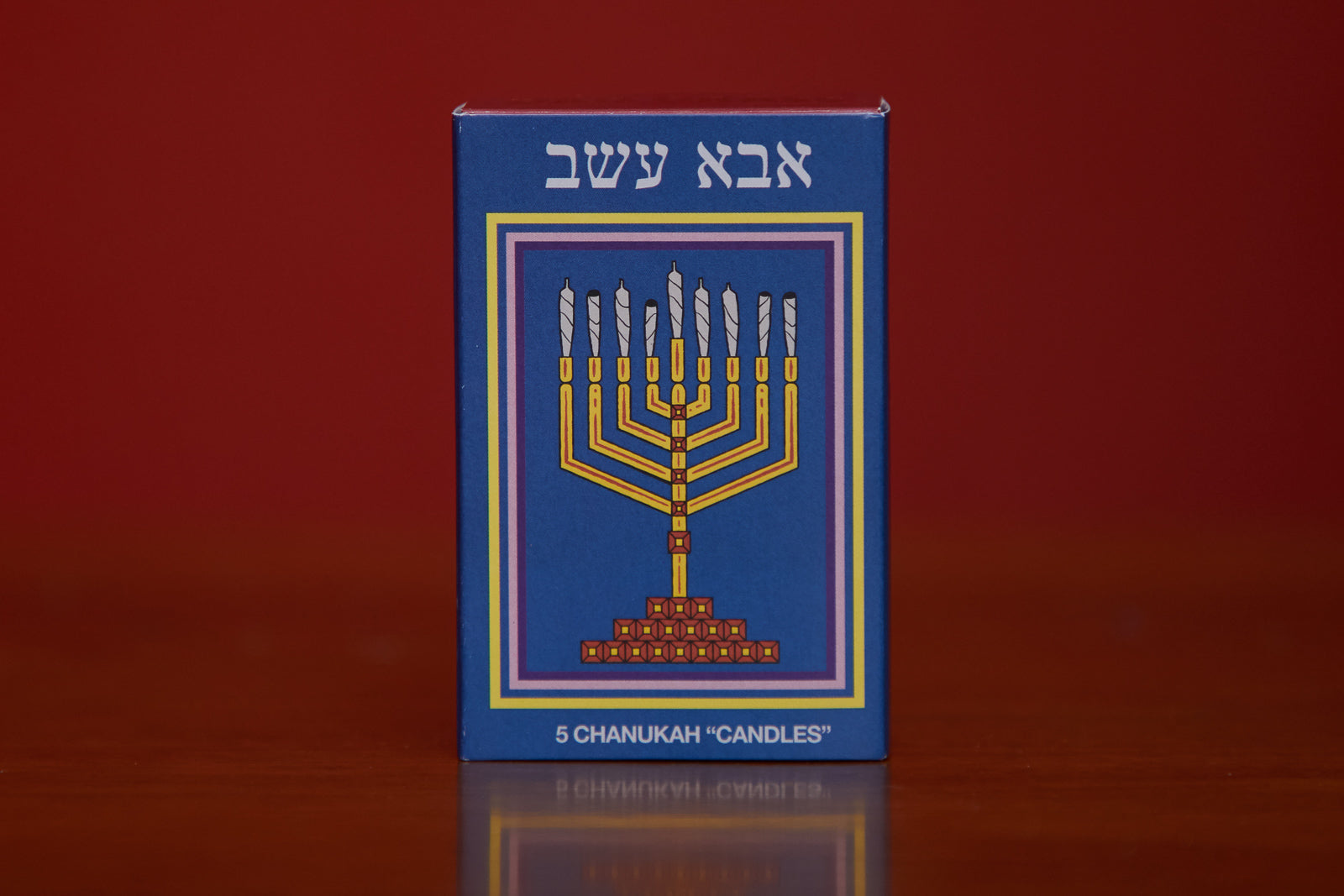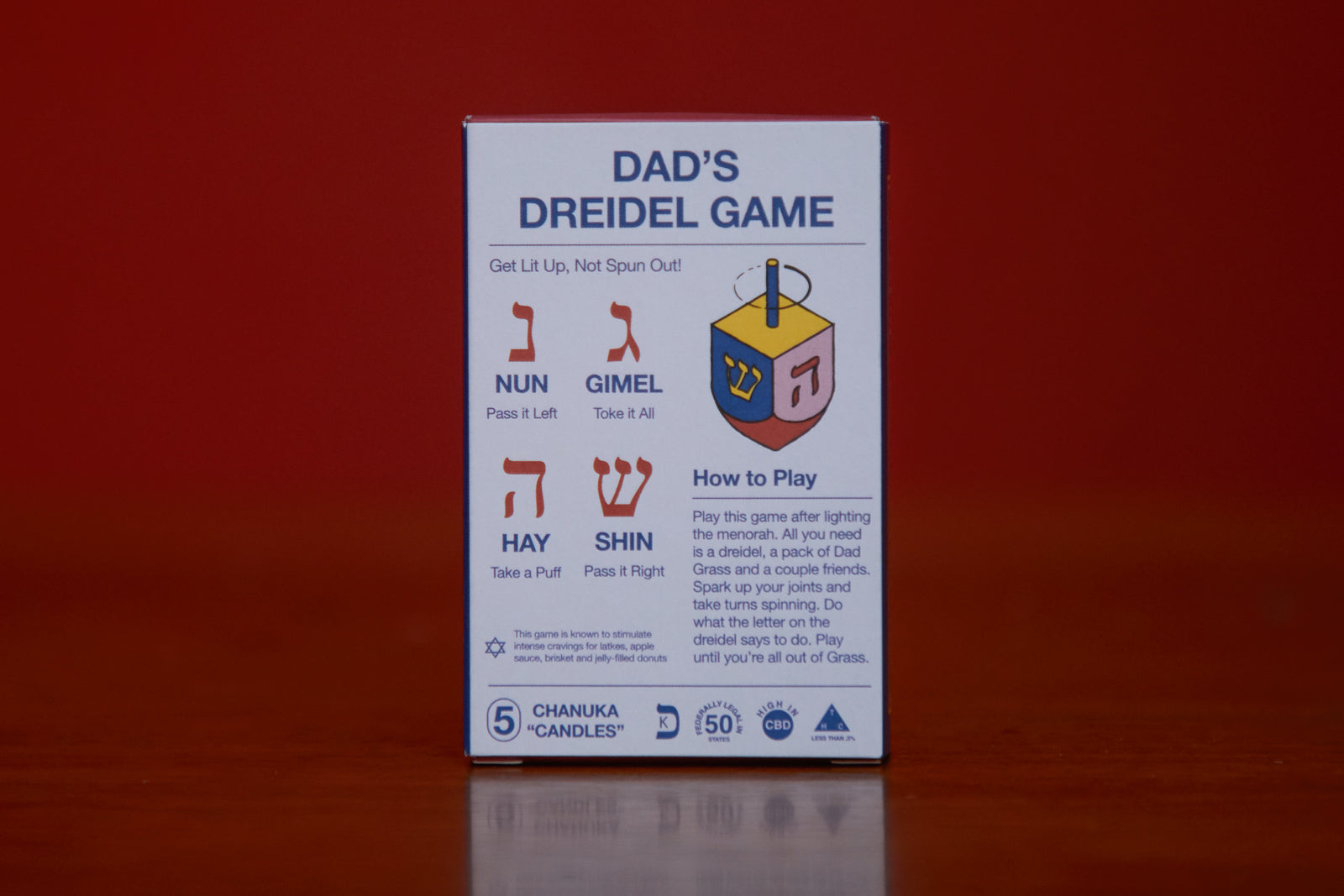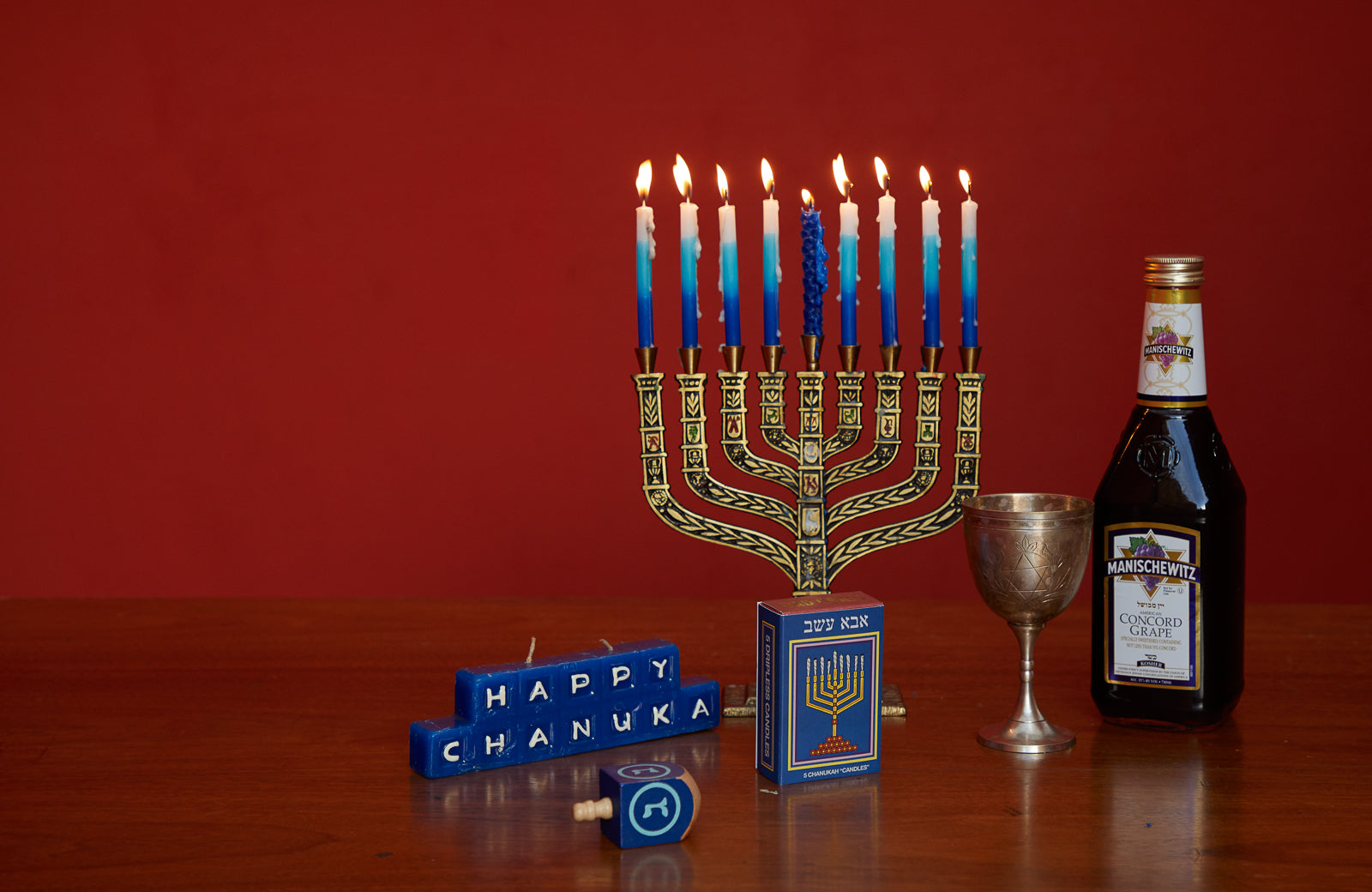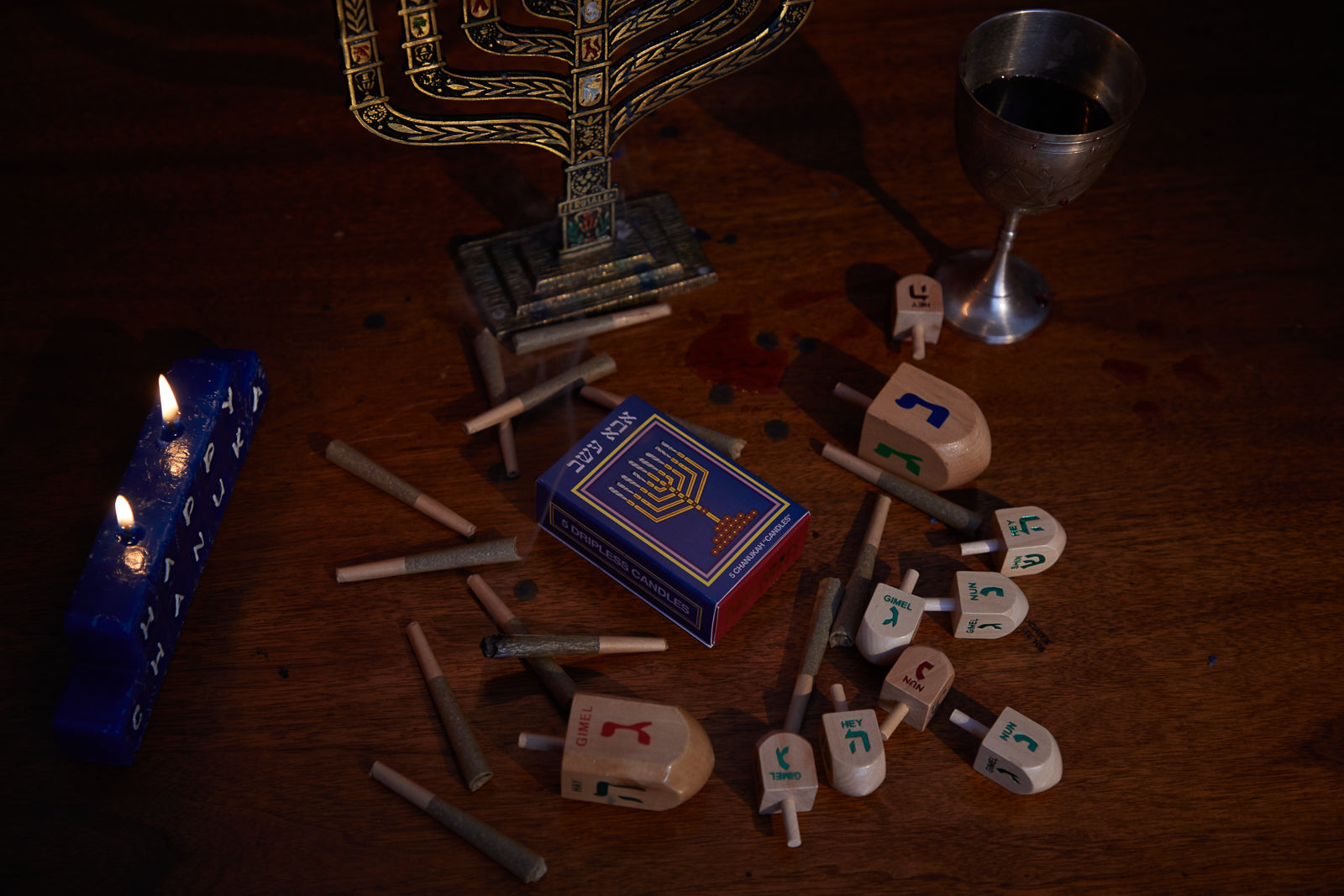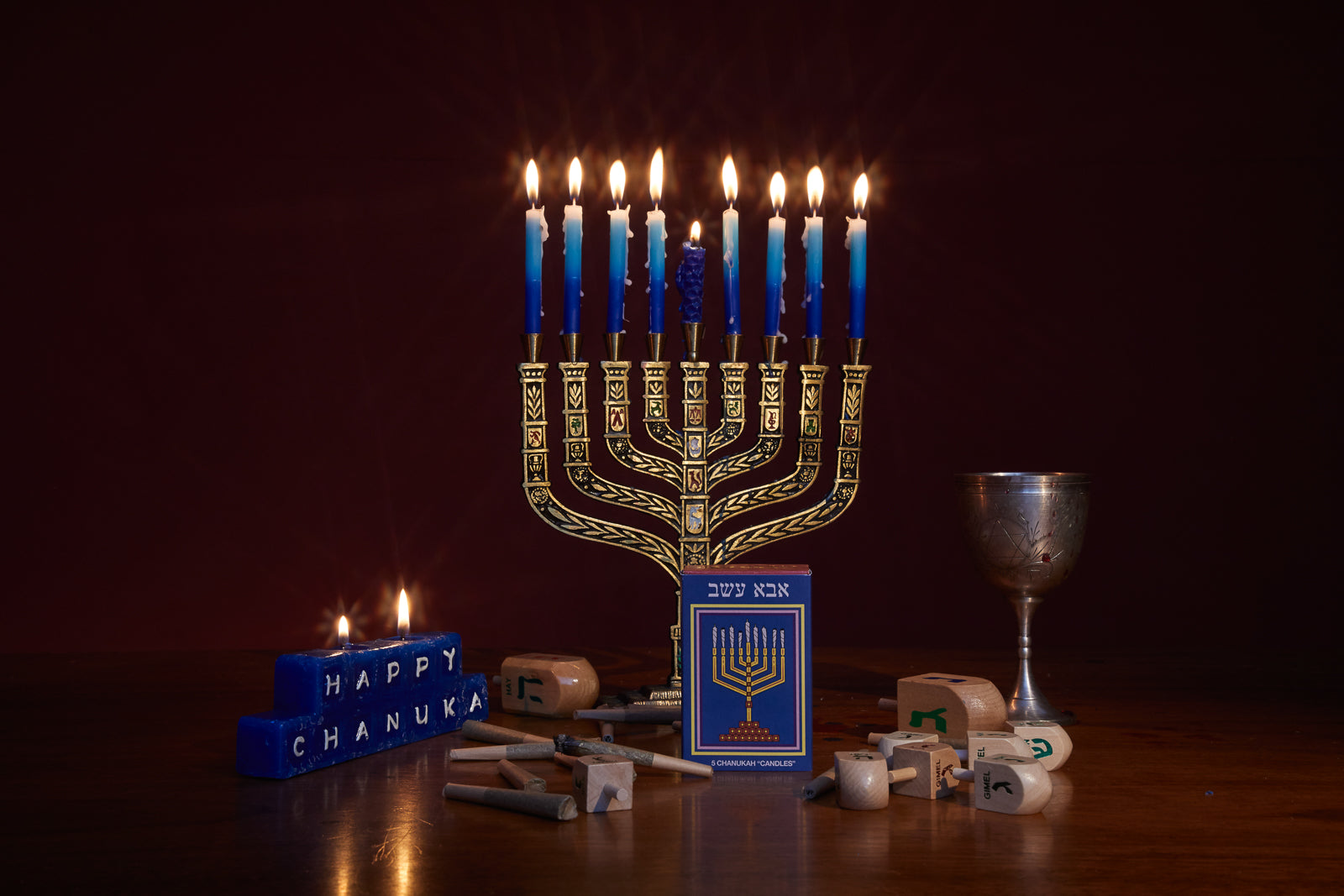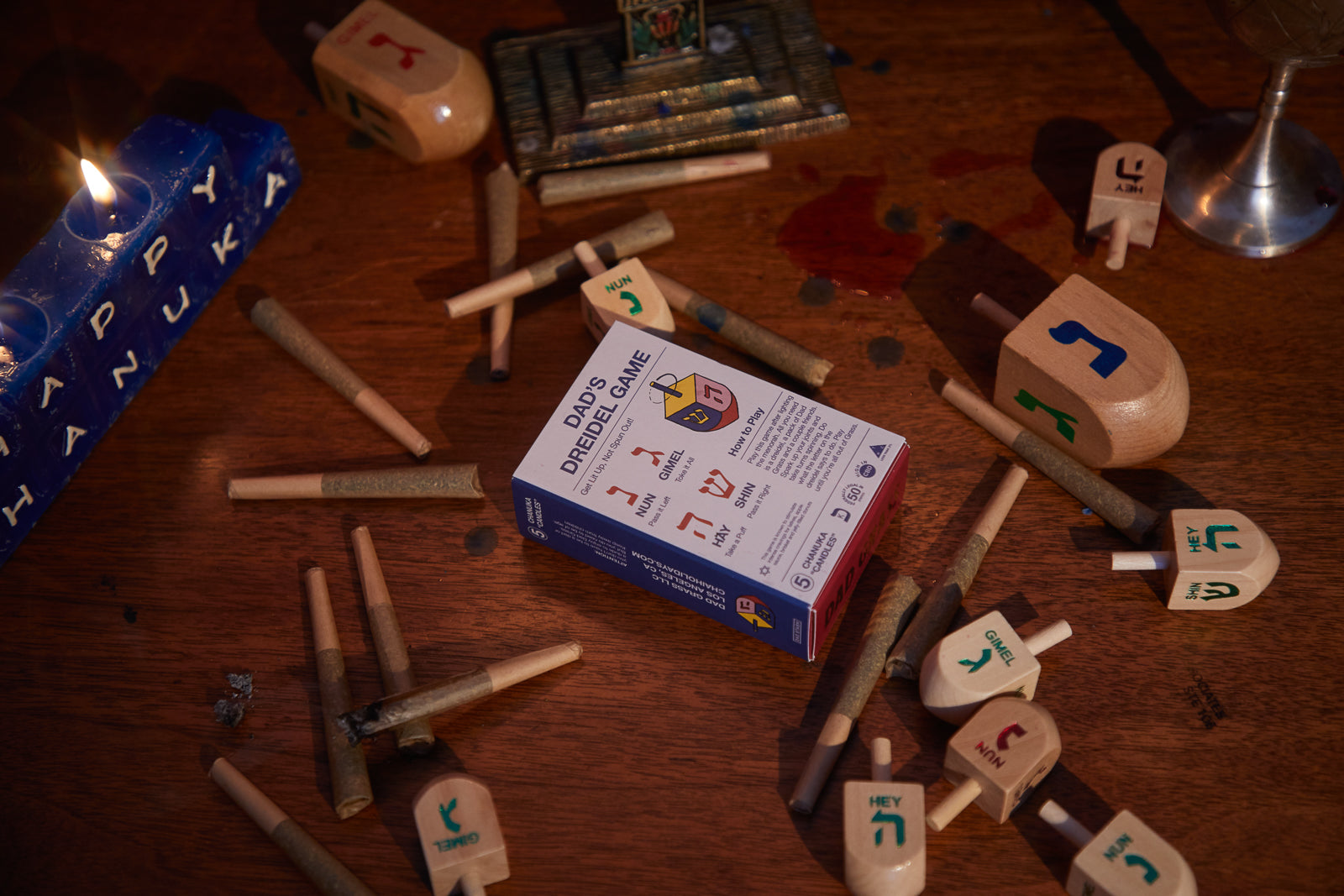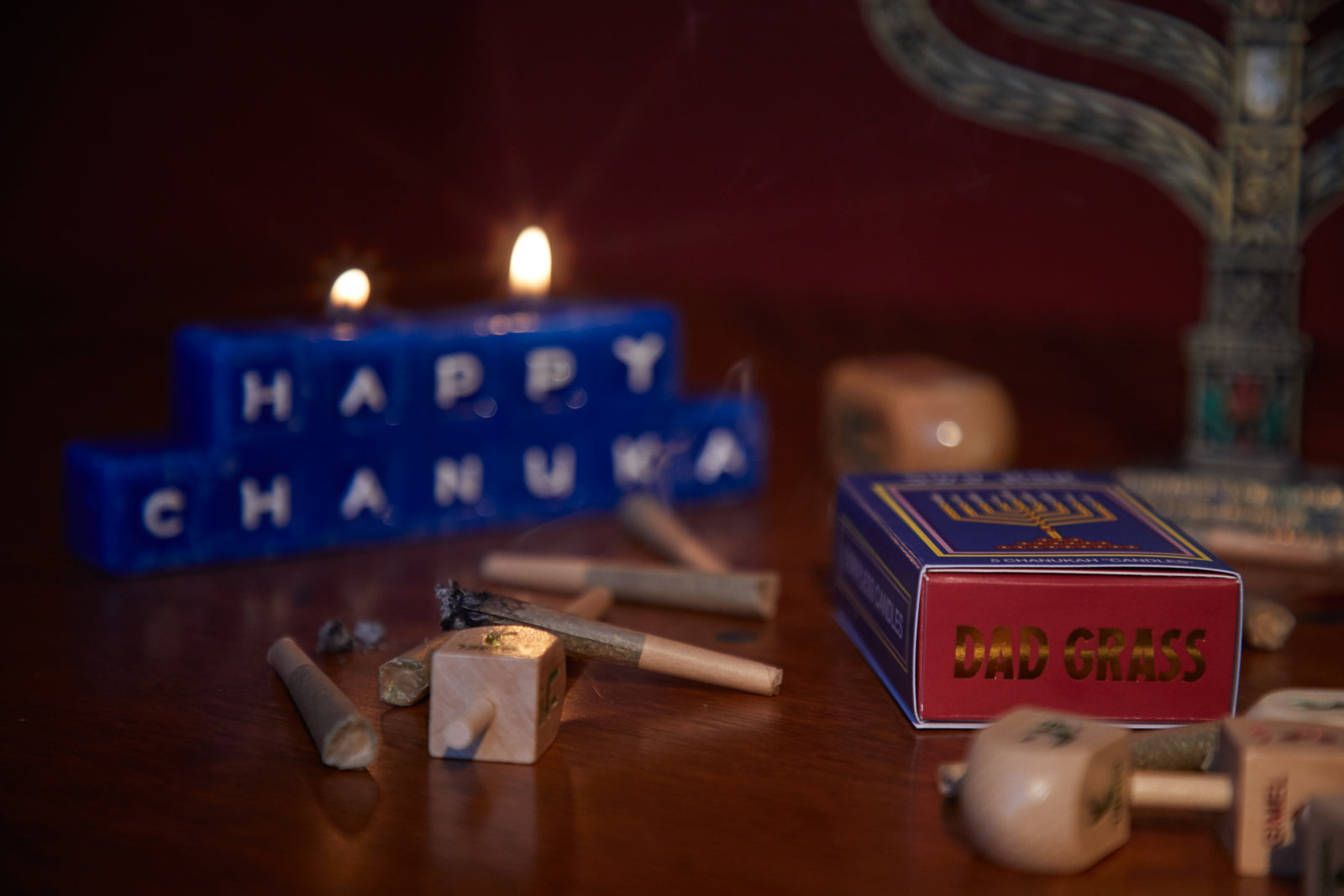 Chanukah Candles 5 Pack Dad Stash - 10 Unit Carton
Description
What's This All About?
Introducing The Dad Stash
Legal Disclaimers
Price Per Unit: $18.5
Suggested Retail Price: $37
This case contains 10 units.

Our new Chanukah Gift Wrap Dad Stash makes your 5 Pack of Dad Grass or Mom Grass joints look like a lovingly wrapped gift that's ready to place under the menorah during the Festival of Lights. The decoy pack sleeve features all of our Chanukah favorites: Rabbi Rollie the Dog, menorahs alight with joint candles, Manischewitz wine, jelly donuts, gilt (gold coins), dreidels and candles. To top it off, we slapped on a To:/From: sticker so gifting can be a breeze this year. Concealed inside is a 5 Pack of Dad Grass Joints (that may or may not keep burning for eight days and nights).
If you're a member of the tribe, your holiday rituals might look a bit different from your neighbors'. While they're putting up the Christmas lights, you're bringing down that Chanukah box, dusting off your menorahs, and calling your mother about Bubbe's famous brisket recipe. And when they're still hunting down the perfect gifts to put under the tree, you're already lighting the candles, gorging on oily treats and spinning those eight crazy nights away. But whether you're a jew or a gentile (or anything else for that matter), the holiday season is first and foremost a time for celebration. And that means we're all looking forward to a whole bunch of gift-giving, eating, imbibing and, of course, grass-smoking with the ones we love.
This year, the year 5782 according to the Hebrew calendar, we've got a little present that will help you get lit up without spinning out. Our new Chanukah Candles Dad Stash looks totally kosher, like it's straight from the OGs in Jerusalem. But it's actually concealing a 5-Pack of Dad Grass joints. Leave 'em out on the counter all week long, right next to the dreidels and chocolate gelt. Your kids only have eyes for the presents.
Also, we've got another Chanukah miracle for you. On the back of the Stash, we've shared instructions for our spin on the classic dreidel game. We're even dropping a wood dreidel in with each order. Play this game after lighting the menorah. All you need is a dreidel, a pack of Dad Grass and a couple of friends. Spark up your joints and take turns spinning. Do what the letter on the dreidel says to do. Play until you're all out of Grass. Don't feel left out if you're more 'tree' than 'menorah'! This Stash is sure to be both the year's most unexpected (but universally appreciated) stocking stuffer as well as grooviest way to show your Jewish friends you're hip to the Hebrew hemp. In fact, giving the gift of grass is a mitzvah (so says Dad Grass's Rabbi). Just remember to order soon because Chanukah starts on December 10th.
Maybe it was in an old coffee can in the garage. Maybe it was wrapped in an old faded bandana, wedged between his favorite records. Either way, you probably knew, or at least suspected, that your dad liked to get high once in a while. And like any good Dad, he was always prepared. Along with the original vinyls, favorite drink and out-of-reach memorabilia, your dad's stash of grass was there to keep his soul light and his head right.
You're all grown up now and you probably have a stash of your own. If you're lucky, you might even have a few perfectly rolled J's from your friends at Dad Grass in there.  It's reserved for slow-dances after date nights, long summer evenings with the neighbors or those rare moments of solitude and self reflection. It's not for the kids. And certainly not for their friends.  You've got to keep some things sacred, so you try to keep your stash hidden away just like your Dad did. 
As students of the ancient art of stashing grass, a tradition that dates all the way back to 8000BC, we've seen and tried it all. So believe us when we tell you that your secret spot probably isn't a secret.  It may even be the first place they look! But there's no need to stress.  We've got you covered with our new series of Dad Stashes, a revolutionary stashing system that lets you hide your grass in plain sight. Each Dad Stash decoy sleeve makes your pack of Dad Grass joints look like a different unassuming household item. Our first three Stashes were designed to blend in perfectly to the most joint-critical home zones: The garage, living room and kitchen.
To Clarify: If you really want to keep your Dad Grass (or anything, for that matter) away from your kids, parents or other sets of sticky fingers, try the classic 'lock and key' approach. Dad Stashes are not child-proof nor are they guaranteed to dupe everytime. 
 Content is at or below the legal limit of 0.3%.
You must be 21 or older to purchase or consume these products.
The statements made regarding these products have not been evaluated by the Food and Drug Administration. The efficacy of these products has not been confirmed by FDA-approved research. These products are not intended to diagnose, treat, cure or prevent any disease. All information presented here is not meant as a substitute for or alternative to information from health care practitioners. Please consult your health care professional about potential interactions or other possible complications before using any product. The Federal Food, Drug, and Cosmetic Act require this notice.
Warning: Cancer and reproductive harm. www.p65warnings.ca.gov
Chanukah Candles 5 Pack Dad Stash - 10 Unit Carton