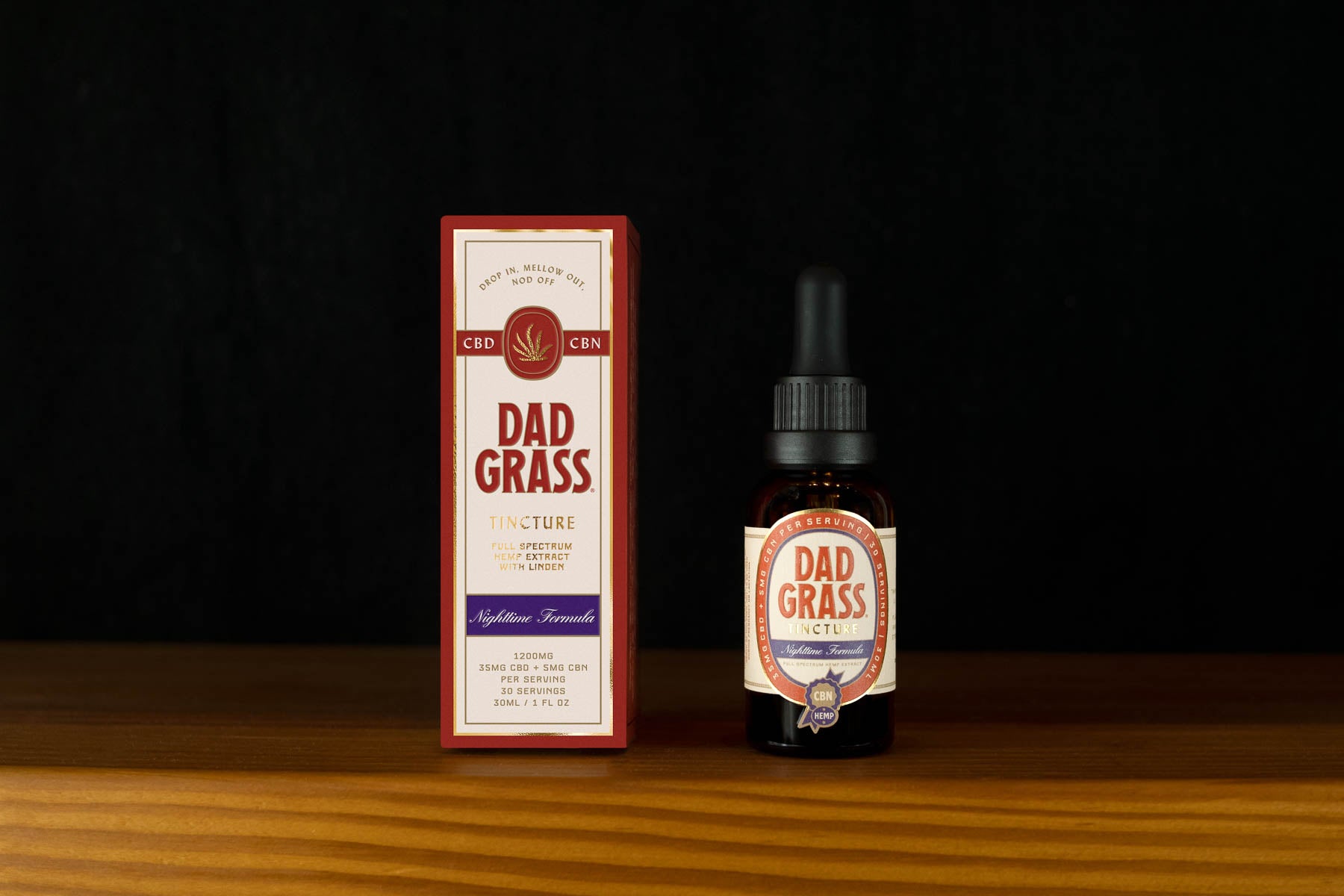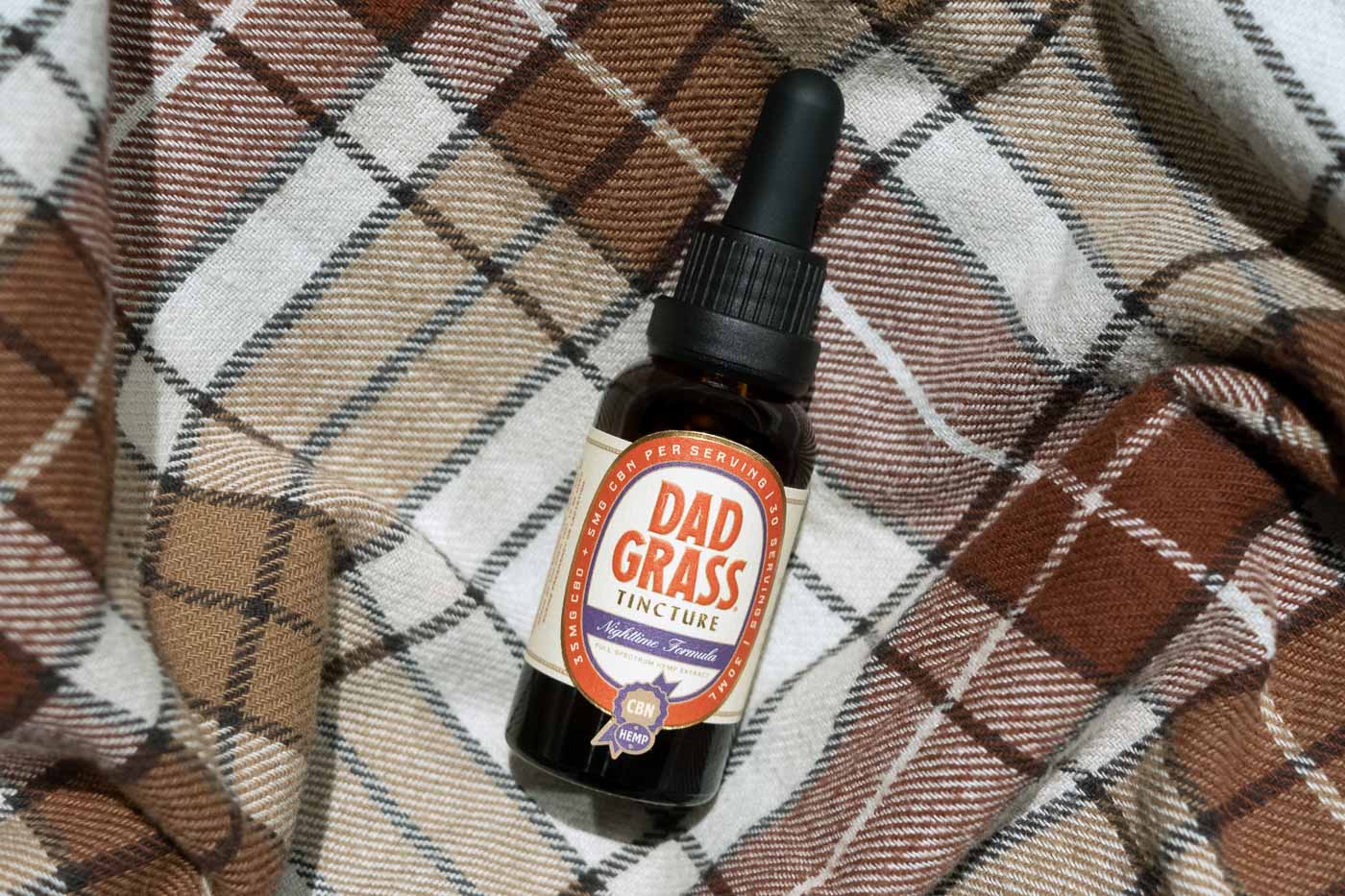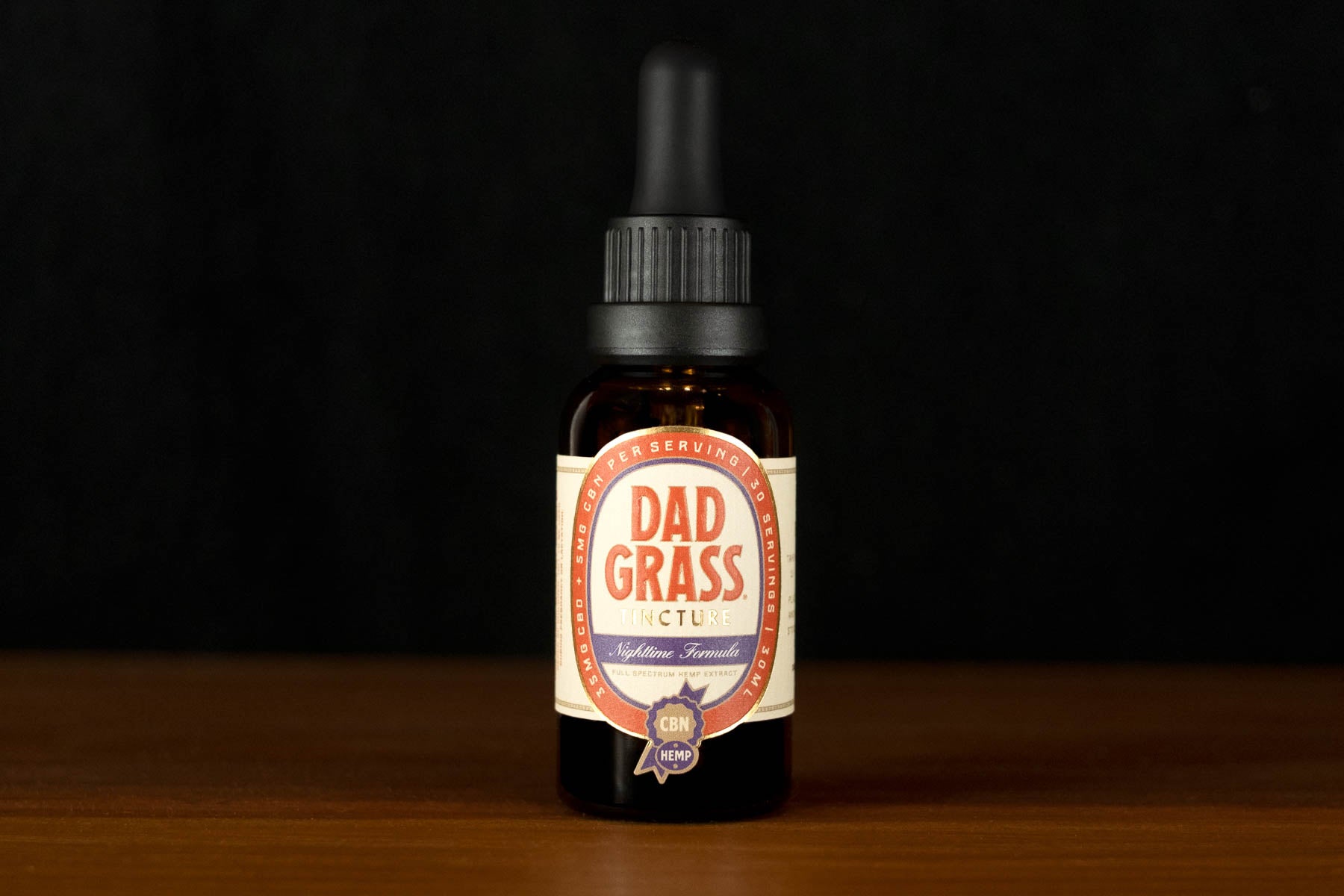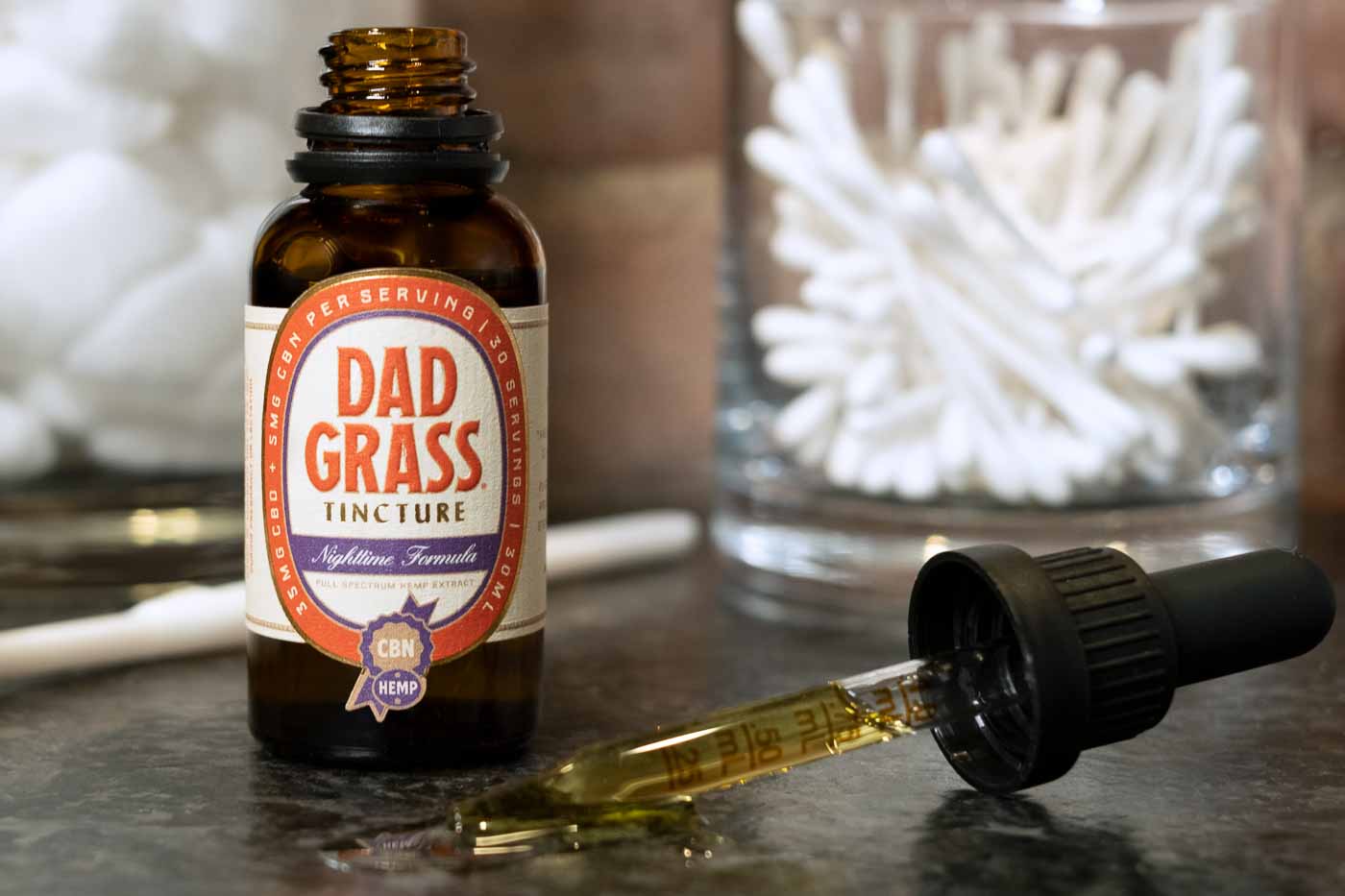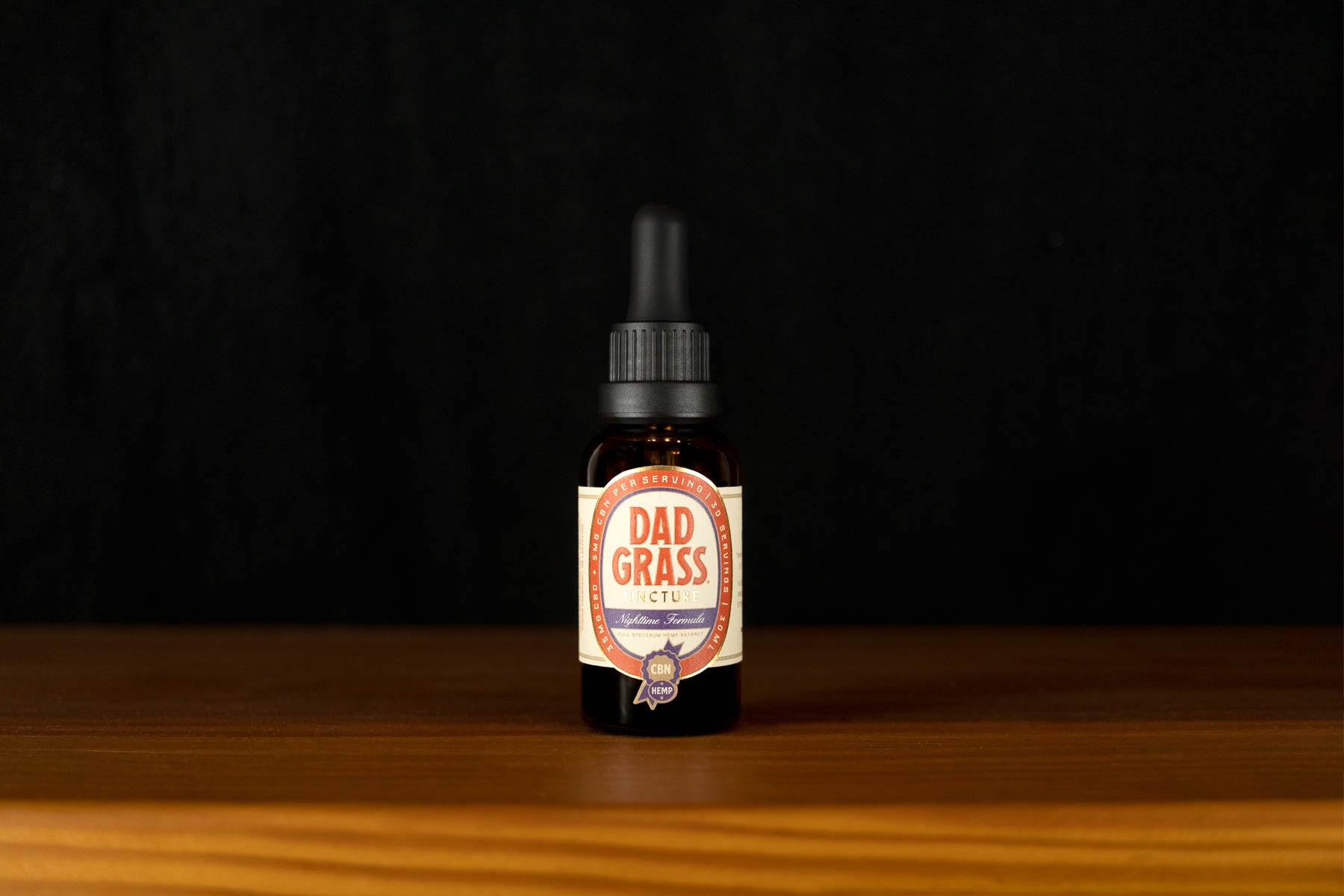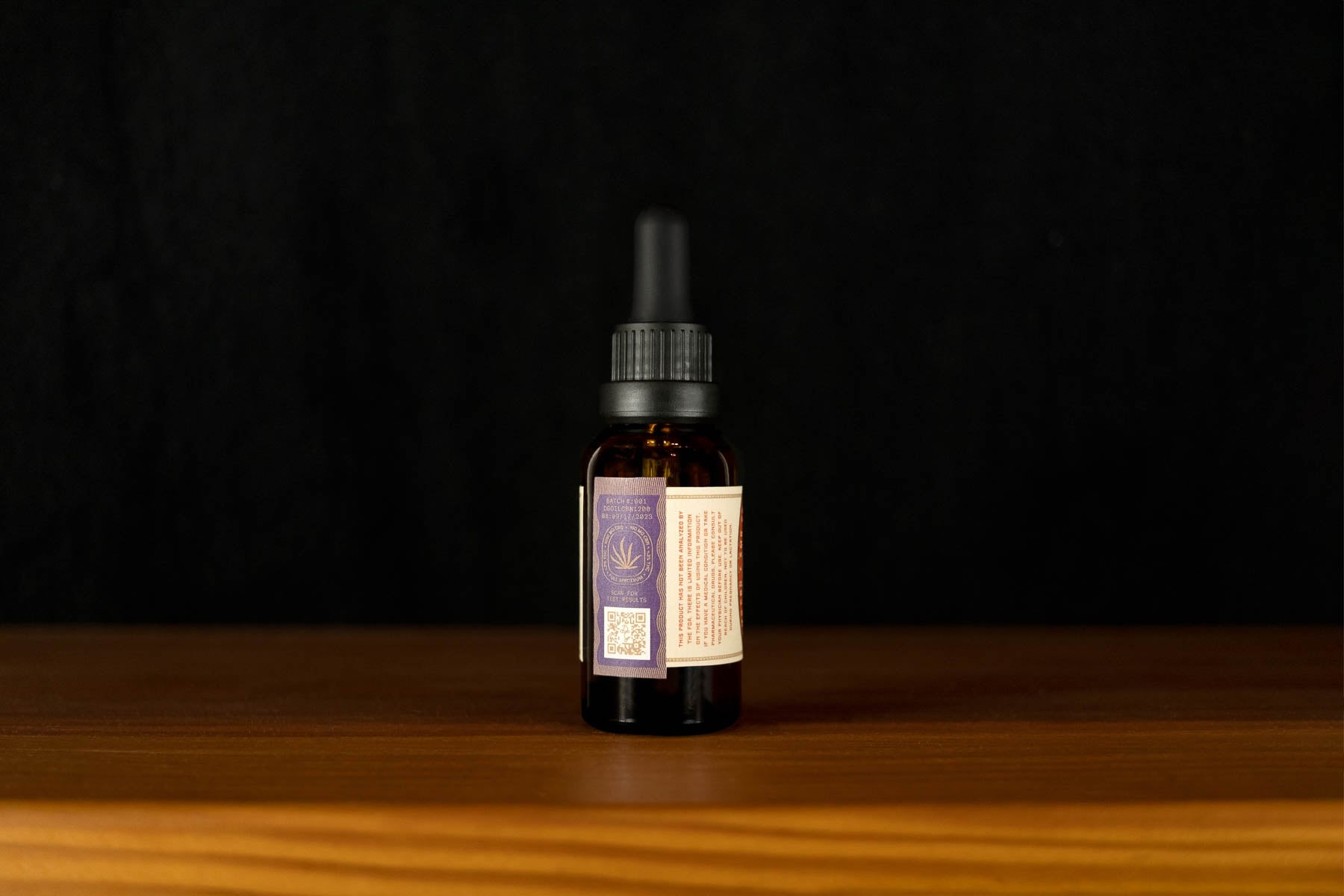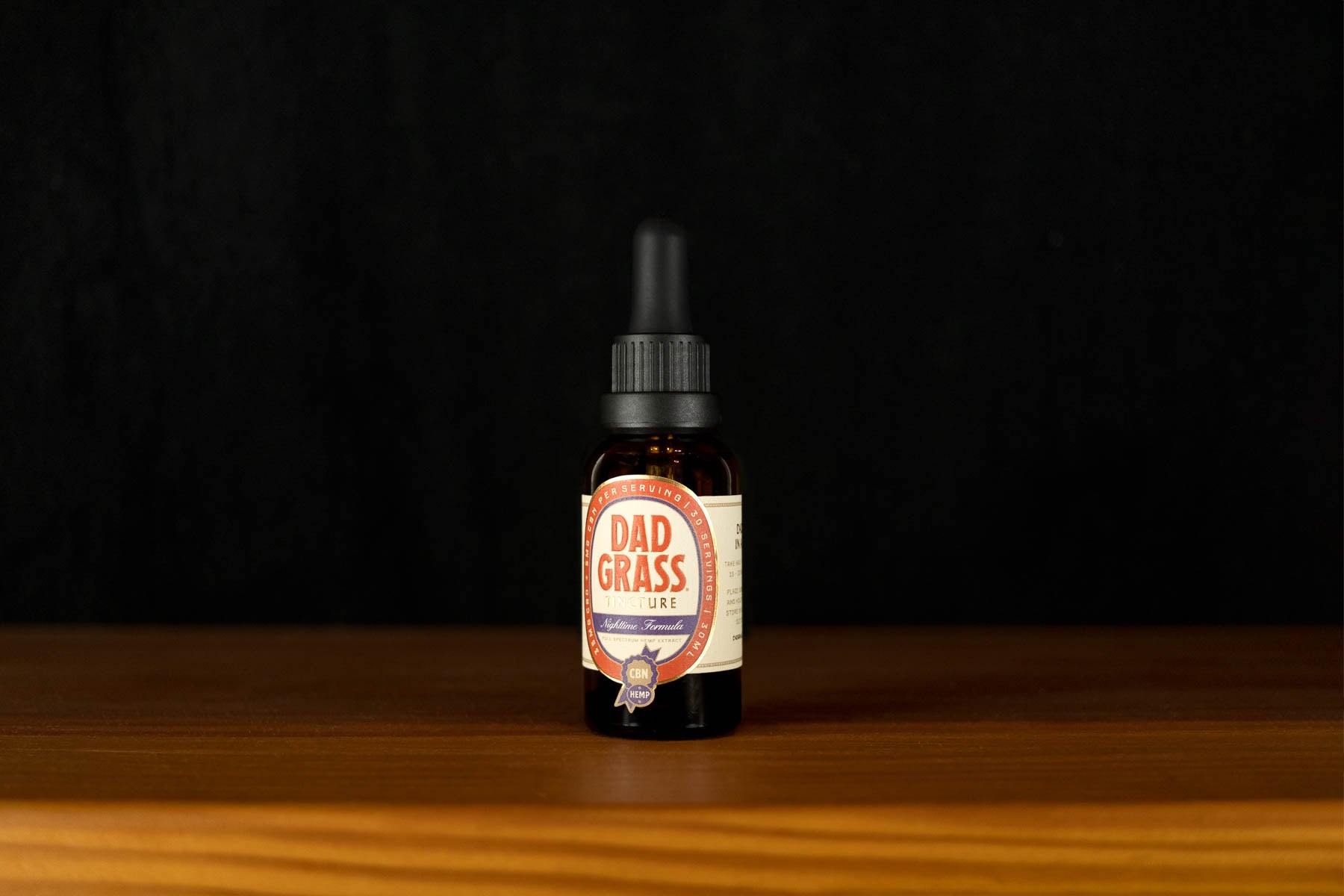 Dad Grass Nighttime Formula CBN Tincture - 10u Case
$260.00
Regular price
$325.00
Subscription • Save
Description
Quick Facts
Tincture Formulation

Usage Instructions

What is CBN?

CBN & CBD

Effects to Expect

Sleeping Well

Testing Results


Legal Disclaimers
The Dad Grass Nighttime Formula is a 100% organic full spectrum hemp tincture that will lull you into a deep and restful sleep. Rich with terpenes. High in CBD, plus CBN. Infused with calming linden. No habit-forming chemicals. Just an all-natural remedy to help you get the sleep that dreams are made of.

Price Per Unit: $32.50
Suggested Retail Price: $65
This case contains 10 units.
Cannabinoids:

1050 MG CBD and 150 MG CBN per 30ML bottle

Contains under .3% THC
Serving Size:

1 dropper = 1 serving

35 MG CBD & 5 MG CBN per serving

30 servings per bottle
Recommended Daily Ritual:

Take half to one ML (40mg) 15-30 mins before bed

Place under your tongue and hold for 30 seconds
Ingredients:

Full spectrum 100% Organic hemp extract
Organic MCT oil (from coconuts)
Organic Linden
Free Of:

Herbicides
Pesticides
Contaminants
Heavy Metals
Dad Grass Tinctures are formulated from 100% organic hemp flower, responsibly grown right here in the United States. Full Spectrum. High in CBD, plus CBN and rich with terpenes. No herbicides or pesticides. And no funky chemicals. Infused with rejuvenating mint. It's easy to dose and comes on smooth. Drop it before bed to get sleep that dreams are made of.
The best way to experience the full benefits of a Dad Grass Nighttime Tincture is to take it sublingually (placing your desired number of drops under the tongue and waiting about 30 seconds before swallowing) about a half hour before lights out. This way, the arterial blood supply under your tongue will rapidly absorb the CBD and CBN. We recommend first timers start out low and slow with one half to one full dropper (about 1ML). You can always repeat as needed.
CBN (cannabinol for nerds) was first discovered in 1940. It was actually the very first cannabinoid to be isolated and purified from cannabis. Since then, CBN has been the star of…not a whole lot. That might be because extracting it from the plant was, until recently, extremely complicated and time-consuming. Or maybe "big weed" was too focused on getting us all high on THC! Fortunately, our farmer friends figured out how to grow organic hemp plants rich with CBN. Meanwhile, our scientist buddies developed safer and more efficient ways to get that CBN into our bottles. Combine all that with the increased awareness around the importance of sleep along with a growing demand for healthier, more natural snooze aids and…well, let's just say CBN is finally having its moment! 
One way to think about CBN is as a weaker, chiller version of THC. Basically, when THC molecules in the flowers of the cannabis plant age, they break down and become the far-less -psychoactively-potent CBN. But don't get it twisted. Just because CBN is closely related to THC, hemp-derived CBN won't get you high like its youthful THC self. Consumed in the proper amounts and combined with CBD, it's more likely to have you sinking softly into your pillows.  

While there's not yet a lot of hard research on CBN, some early studies help explain why and how CBN may be the sleep buddy we've all been looking for. For example, research suggests that cannabinoids like CBN reduce the time it takes to fall asleep, and actually lengthens time spent in deep, slow wave sleep while shortening time spent in REM sleep. This is likely due to CBN triggering a specific CB1 receptor within our endocannabinoid system that controls our central nervous system functions like sleep, as well as pain, metabolism, movement and heart rate. The CBN and CB1 receptor relationship was confirmed again in one 2016 study, where researchers suggested that CBN, especially when combined with additional cannabinoids like CBD and THC, may aid in reducing and relieving symptoms of pain and inflammation which are famous for keeping us up at night.
CBN is the cannabinoid created when THC ages, which means that it has slightly higher psychoactive properties than CBD and CBG. Because of its naturally groovy nature, and its tendency to have a touch more intensity, it's important to strike the right balance. The Nighttime Formula was intended as a remedy to help you get the sleep that dreams are made of, and the last thing you need is a tincture that will negatively affect you. Because the truth is, CBN will change the way you sleep. And dream.

The CBN cannabinoid chills out more than your muscles. It actually inhibits your Rapid Eye Movements, also known as REM, along with shortening the stage five REM cycle. This results in achieving deeper sleep faster, which could affect the way you dream. Through months of R&D, we discovered that the devil is in the details… literally. Higher doses of CBN consistently left users battling their midnight demons and waking up reeling from their nightmares. Lower doses of CBN didn't do all that much. Finally, we achieved our goldy-lock zone of CBD + CBN. Our 7:1 Ratio left users with vivid recollections of dreams (sometimes a few in one night) while feeling refreshed and rested.

Here's a pro tip. Our Nighttime CBD + CBN Tincture tends to work better when paired with our Classic CBD Formula due to the entourage effect. Scientists have discovered that cannabinoids compound in your body over time, priming your endocannabinoid system and allowing you to more effectively absorb additional CBD and other cannabinoids.
The Dad Grass Nighttime Formula CBD + CBN Tincture should have you sleeping the way you did before you knew what taxes were. Our friends tell us that when used nightly over time, it helps them fall asleep, and stay asleep, au naturel. They report waking up feeling refreshed and ready to take on the day. Many of them have called it "their dream come true," and are finally able to toss their other tired tools for turning in, the store-bought solutions that left them feeling foggy and groggy. We like to think of CBN as a gentle lullaby and OTC sleep aids as one-two punches. They might knock you out like a light, but you'll wake up feeling like sh*te.
Good sleep is hard to come by. 1-in-4 Americans develop insomnia each year. And for good reason. We're dealing with once-in-a-generation events every other month. Even though insomnia and poor sleep are common enough, a night of tossing and turning just ain't natural. Beyond waking up and feeling unproductive after a restless night's sleep, the long-term effects of sleep deprivation can have severe adverse effects on the body. We're talking memory loss, mood changes, weakened immune systems, high blood pressure and more. Yikes. We know that hemp products alone won't drastically change your sleeping habits. But when integrated into a more mindful lifestyle (seriously, don't bring your phone to bed), CBD and CBN have been proven to help promote natural slumber and ease the negative effects of sleep deprivation.
We can't help but go the extra mile to make sure what we're serving you is 100% pure and of the highest quality. Every one of our tinctures has a little label that helps you learn more about it. A quick glance will give you the essentials: The batch number and the best-by date. Scan the QR code and you'll find the detailed testing report, also known as a Certificate of Analysis (COA), done by the same independent third-party labs that test the marijuana products you find in dispensaries. You can also view it here. 
Not only do our labs determine the precise concentrations of THC (always below the federally legal amount of 0.3%), CBD and CBN as well as the terpene profiles, they also make sure our tinctures are free of herbicides, pesticides, mold, fungus, bacteria, heavy metals or other toxins (basically all of the yucky stuff). This is especially important for tinctures because any contaminants that creep their way into the soil or onto the crop will become more concentrated, and therefore more toxic, when the plants are distilled into a liquid form.

Don't worry, we nip this issue in the bud by only using 100% Organic hemp grown under the sun using regenerative farming techniques. Then, just to be absolutely sure that our tinctures are as perfect as you deserve, we put the finished product through a battery of tests and we always pass with flying colors.
THC Content is at or below the legal limit of 0.3%.
You must be 21 or older to purchase or consume these products.

The statements made regarding these products have not been evaluated by the Food and Drug Administration. The efficacy of these products has not been confirmed by FDA-approved research. These products are not intended to diagnose, treat, cure or prevent any disease. All information presented here is not meant as a substitute for or alternative to information from health care practitioners. Please consult your health care professional about potential interactions or other possible complications before using any product. The Federal Food, Drug, and Cosmetic Act require this notice.
WARNING: Consuming this product exposes you to carcinogen delta-9-THC, and during pregnancy exposes your child to delta-9-THC, which can affect your child's behavior and learning ability. www.P65Warnings.ca.gov/cannabis.
Dad Grass Nighttime Formula CBN Tincture - 10u Case

$260.00

Regular price

$325.00
You've Got Tincture Questions? We've Got Answers!
What Will The Nighttime Formula Feel Like?
Our special formulation blends the sedative effects of CBN, the mind-body relief of CBD and the soothing properties of linden to promote lasting, quality sleep. Our friends tell us that after a few drops, they can feel the stresses of the day melting away as they sink into their pillow, and that they wake up feeling rested and ready for the day ahead. The CBD quiets the body & mind while the CBN soothes the soul so you can sleep through the night and get the most out of every day.
When Should I Use The Nighttime Formula?
For first-time users, we recommend dropping a droplet's worth of CBN oil for sleep under your tongue and hold for 15 seconds (or however long it takes you to hum the chorus of Baa Baa Black Sheep) about 30 minutes before lights out. Adjust as needed.
Once you get a sense of how your body responds to our Nighttime Formula, build up your dosage based on your tolerance or desired levels of rest and recovery.
Why Does The Nighttime Formula Include Linden Extract?
Linden is the layman's term for the trees belonging to the Tilia genus. If that's getting a little too botanical for you, just remember that the dried flower, leaves, and wood have been used as medicine for centuries. Linden has been used by people to ease into a natural and restful sleep, while also treating conditions like colds, headaches and itchy skin. The Organic blend of Linden, CBD and CBN is like a triple threat before bedtime.
What is CBN oil?
Like the Dad Grass Classic Formula CBD Tincture and the Dad Grass Goodtime CBD + CBG Tincture, the Nighttime Formula CBD + CBN Tincture is pretty simple. The main ingredient is 100% Organic hemp flower, responsibly grown right here in the USA. High in helpful cannabinoids like CBN and CBD, two of the many chemical compounds in cannabis and hemp plants. Lower than .3% THC. Rich with terpenes. No herbicides or pesticides. No solvents or chemicals. And nothing to hide that grassy flavor you'll savor. We mix in some organic MCT oil to help it go down smooth (learn more about bioavailability in the Tincture FAQ) and put it in a convenient, easy-to-dose 30ML dropper-top bottle.
What is CBN Good For?
CBN gummies, tinctures and even joints are proven to help ease symptoms of insomnia by helping you sleep faster. Like cousin cannabinoids CBD and CBG, CBN tinctures are also shown to decrease anxiety, stress and depression, as well as having antiinflammatory properties. Talk about a win, win, win.
Where Can I Buy CBN Oil Near Me?
If you're looking for hemp-derived CBN oils, the good news is they're federally legal and TSA approved, so you should be able to buy the best CBN tincture anywhere you purchase CBD or CBG. You can head to dadgrass.com to see local dealers near you, or purchase CBN tincture for sale online, delivered discreetly to your door within the US.
Introducing: Dad Grass Tinctures
Meet the Dad Grass Classic Formula CBD Tincture. The newest member of our family.
Learn More
Finally. A tincture that you can actually feel (and not in a can't-get-off-the-couch way). I love these as a morning pick-me-up, an afternoon jolt and as an evening wind down.