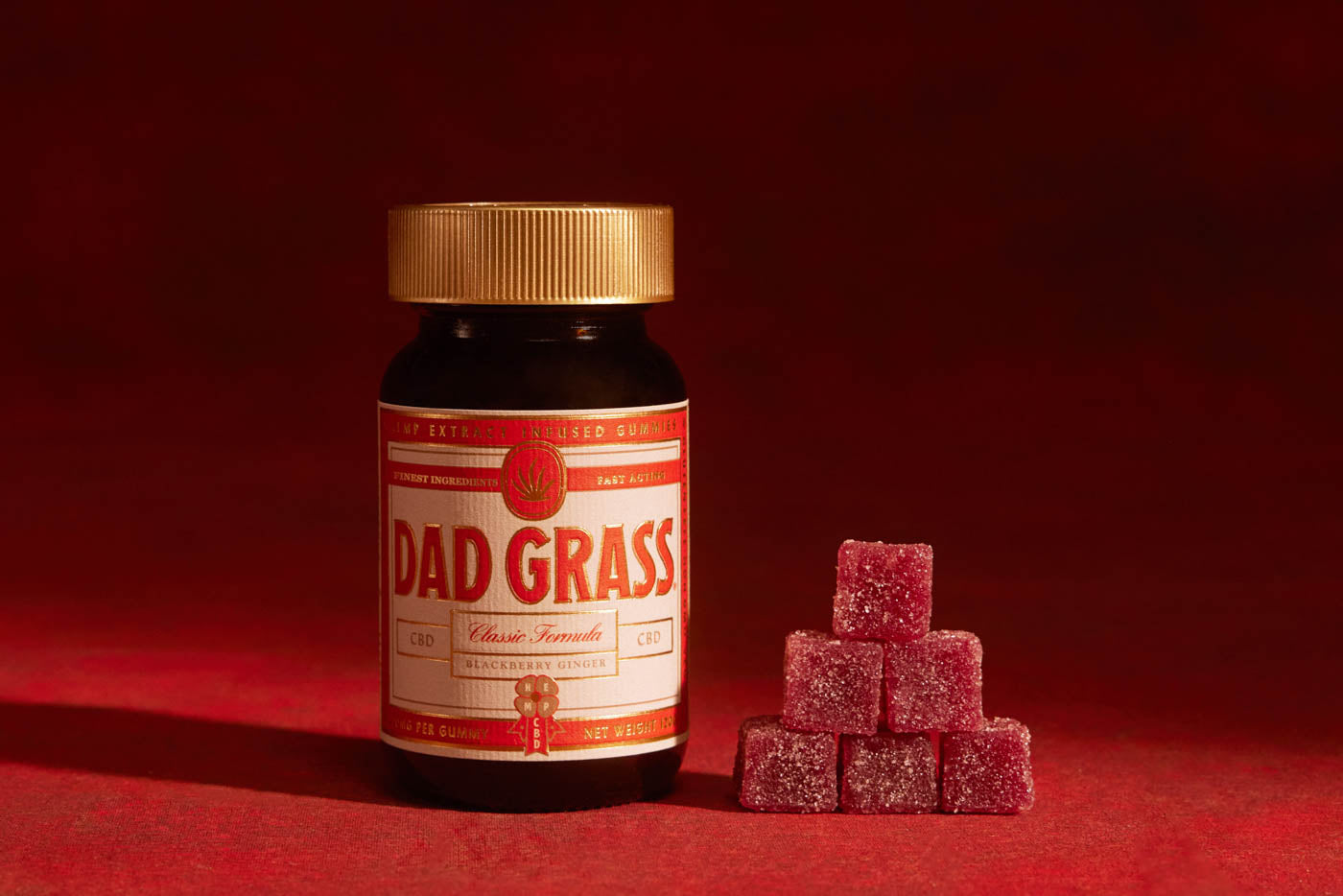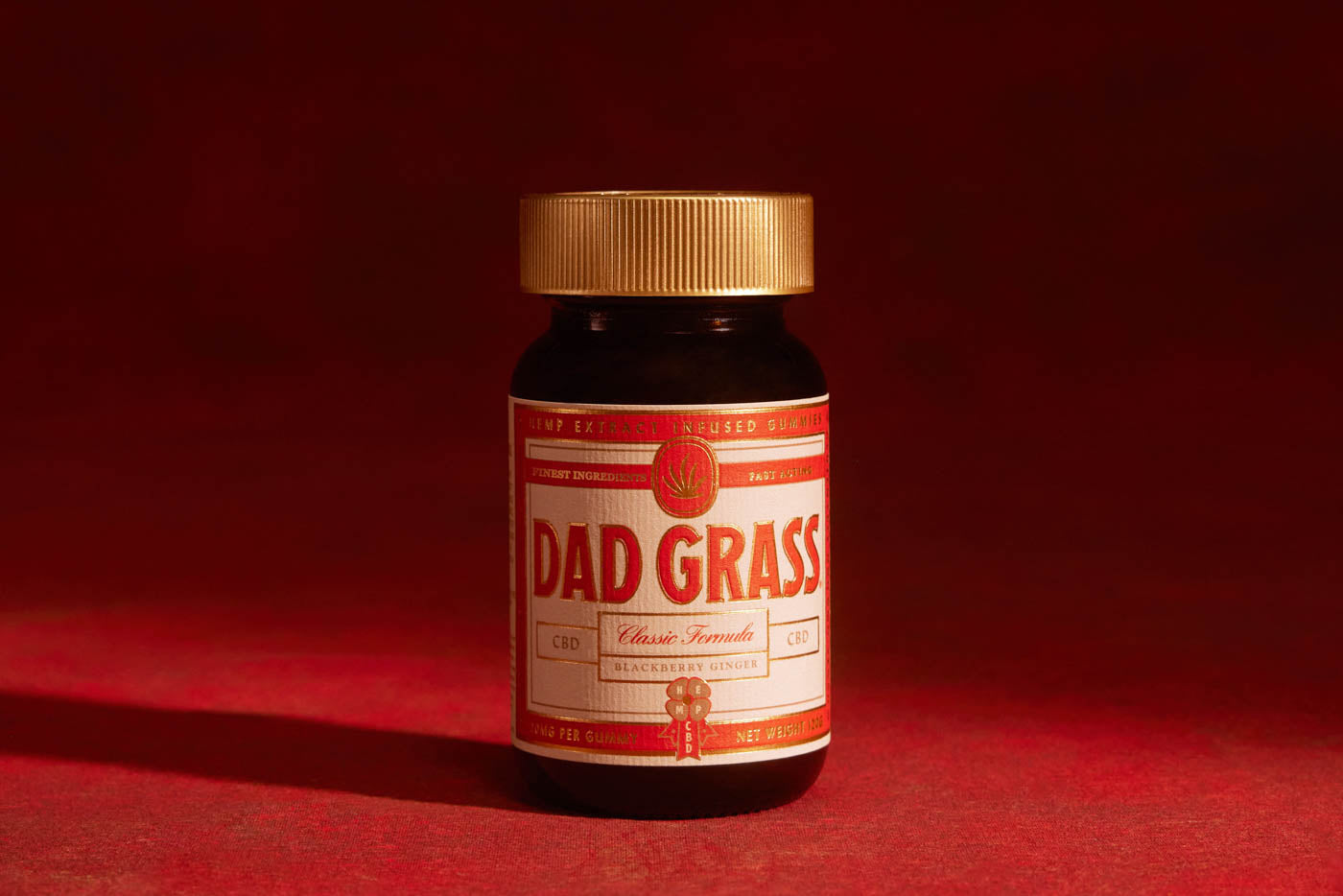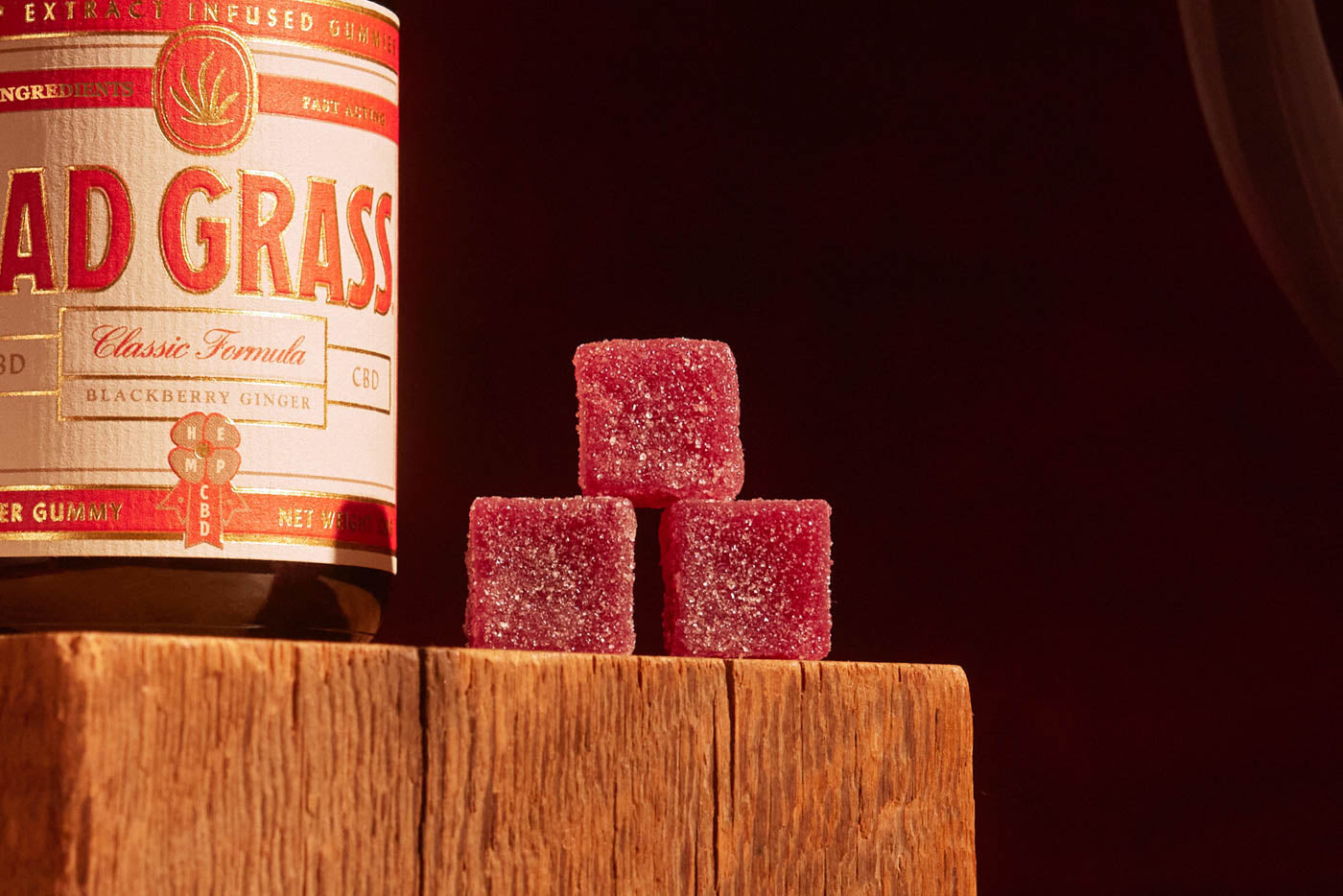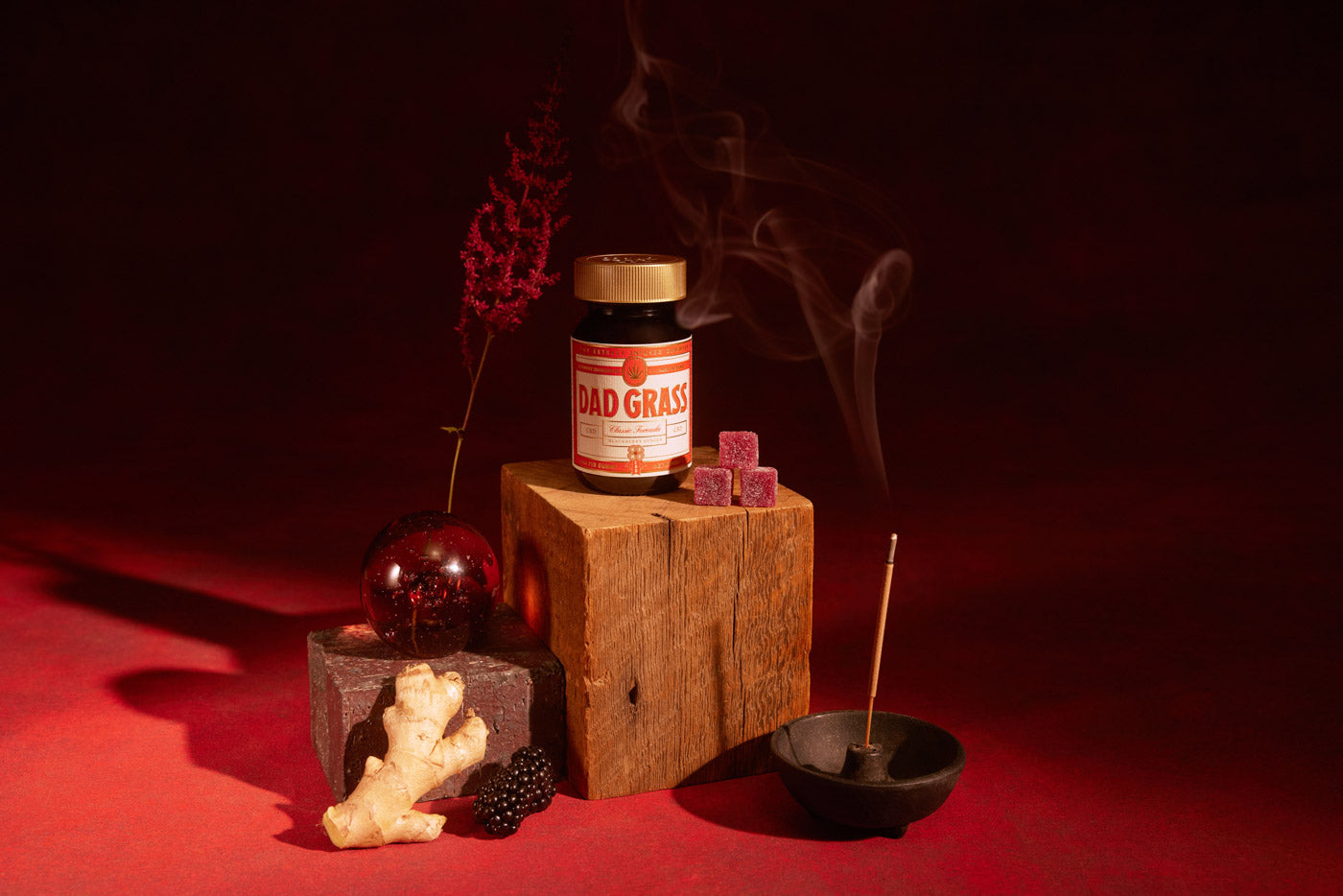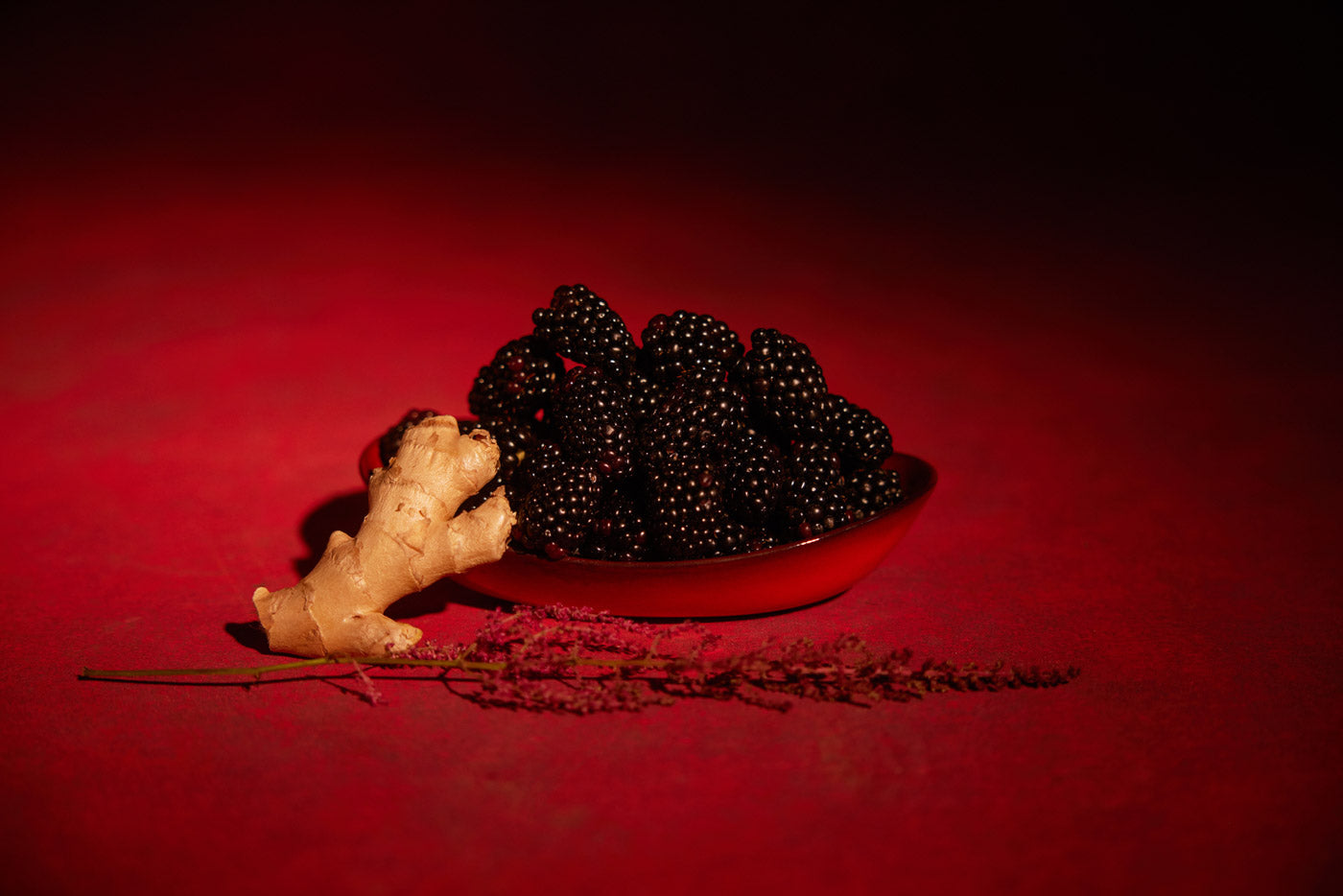 Dad Grass Classic Formula CBD Gummies - 12u Case
Description
Quick Facts:
Gummy Formulation

Diets & Allergies

Usage Instructions

Effects To Expect

Testing Results


Legal Disclaimers
The Dad Grass Classic Formula is a fast-acting blackberry ginger CBD gummy that supports general maintenance of the body and mind. Pop a few gummies throughout the day to keep those bad vibes away. Make it a daily ritual so you stay in the groove

Price Per Unit: $21
Suggested Retail Price: $42
This case contains 12 units.

Cannabinoids:

600MG CBD per bottle

20MG CBD per gummy

Contains under .3% THC
Serving Size:

1 gummy = 1 serving

20MG CBD per serving

30 servings per bottle
Recommended Daily Ritual:

Pop 1 or 2 gummies throughout the day to keep those bad vibes away
Ingredients:

Tapioca syrup, cane sugar, water, cannabis emulsion (CBD), natural flavors, pectin, citric acid, sodium citrate, natural colors (from fruit and vegetable sources)
Attributes:
Vegan
Non GMO

Gluten Free
No Artificial Flavors
Free Of:

Herbicides
Pesticides
Contaminants
Heavy Metals
All Dad Grass Gummies are formulated from the same 100% Organic hemp flower that we roll up in our joints. They're fast acting. Pleasantly potent. High in the helpful cannabinoids like CBD, CBG and CBN. Rich with terpenes. No funky chemicals. No GMOs. No nonsense. Just high quality plant-based ingredients, subtly sour fruit flavors and some seriously small-scale science. A new and much-improved recipe for beneficial bites that taste as good as they feel.
So how'd we do it? We partnered with our favorite organic, responsible hemp farmers to get their best, freshly-squeezed CBD crude oil. Otherwise known as liquid gold. To get that perfectly chewy and velvety smooth mouth-feel, we ditched chalky, tacky gelatin in favor of our gentle citrus-based pectin perfection. Then we went deep into the produce section, drawing inspiration from some of our favorite fruit pairings. These Classic Formula Gummies are bursting with natural blackberry flavor with a tantalizing twist of ginger. And for some surprise with your delight, we added a superfine sugar dusting with a subtly sour finish.
Vegan. Non-GMO. Gluten-free. That's the way gummies ought be! We believe that your daily dose should be as gentle as it is powerful. That's why we developed a better, more responsible recipe that's kind to your body and to our planet. You can expect the best from these gummies on the inside and out because of their all-natural, fruit-derived, organic, vegan ingredients. Nothing artificial or icky. Ever.
Adults: Pop 1 or 2 gummies throughout the day to keep those bad vibes away. When taken daily, our  gummies have been known to prime the body's endocannabinoid system which regulates organ function, stress responses and other physiological systems. That's good for you, because the benefits of our formulas could build up in the body over time to help you stay in the groove, day after day. Our Classic Formula leverages CBD which has been shown to help with stress, anxiety, pain and inflammation (especially when dosed daily)..
Our friends tell us that Dad Grass Classic Formula CBD Gummies help ease their symptoms of stress, anxiety, pain and inflammation while providing a subtle, naturally calming effect. Many daily users report that it improves their mood and overall sense of wellbeing. Like our CBD Joints, CBD Flower and CBD Tinctures, our gummies tend to widen smiles without altering minds. That's because they are full of CBD but contain only trace amounts of THC, which is the psychoactive cannabinoid in cannabis that has a tendency to make you feel stoned or, worse yet, freak out. Some people report getting a mellow buzz, but usually only after taking a larger dose. And don't worry, our gummies aren't a stimulant either, so if you need a little wind down before you turn in for the night, Dad Grass gummies are a great way to lull you into a natural sleep as well (but we recommend popping a Nighttime Gummy if you're craving sleep that dreams are made of). 
We can't help but go the extra mile to make sure what we're serving you is 100% pure and of the highest quality. Every one of our gummy bottles has a little colored label that helps you learn more about the gummies inside. A quick glance will give you the batch number as well as the cannabinoid profile and amount of THC (always below the federally legal amount of 0.3%). Scan the QR code and you'll find the detailed testing report, also known as a Certificate of Analysis (COA), done by the same independent third-party labs that test the marijuana products you find in dispensaries. You can also view it here.

Not only do our labs determine the precise concentrations of THC and CBD, CBG or CBN, they also make sure our gummies are free of herbicides, pesticides, mold, fungus, bacteria, heavy metals or other toxins (basically all of the yucky stuff). This is especially important for gummies because any contaminants that creep their way into the soil or onto the crop will become more concentrated, and therefore more toxic, when the plants are distilled into a liquid form.

Don't worry, we nip this issue in the bud by only using 100% Organic hemp grown under the sun using regenerative farming techniques. Then, just to be absolutely sure that our gummies are as perfect as you deserve, we put the finished product through a battery of tests and we always pass with flying colors.

THC Content is at or below the legal limit of 0.3%.
You must be 21 or older to purchase or consume these products.

The statements made regarding these products have not been evaluated by the Food and Drug Administration. The efficacy of these products has not been confirmed by FDA-approved research. These products are not intended to diagnose, treat, cure or prevent any disease. All information presented here is not meant as a substitute for or alternative to information from health care practitioners. Please consult your health care professional about potential interactions or other possible complications before using any product. The Federal Food, Drug, and Cosmetic Act require this notice.
Warning: Cancer and reproductive harm. www.p65warnings.ca.gov
Dad Grass Classic Formula CBD Gummies - 12u Case