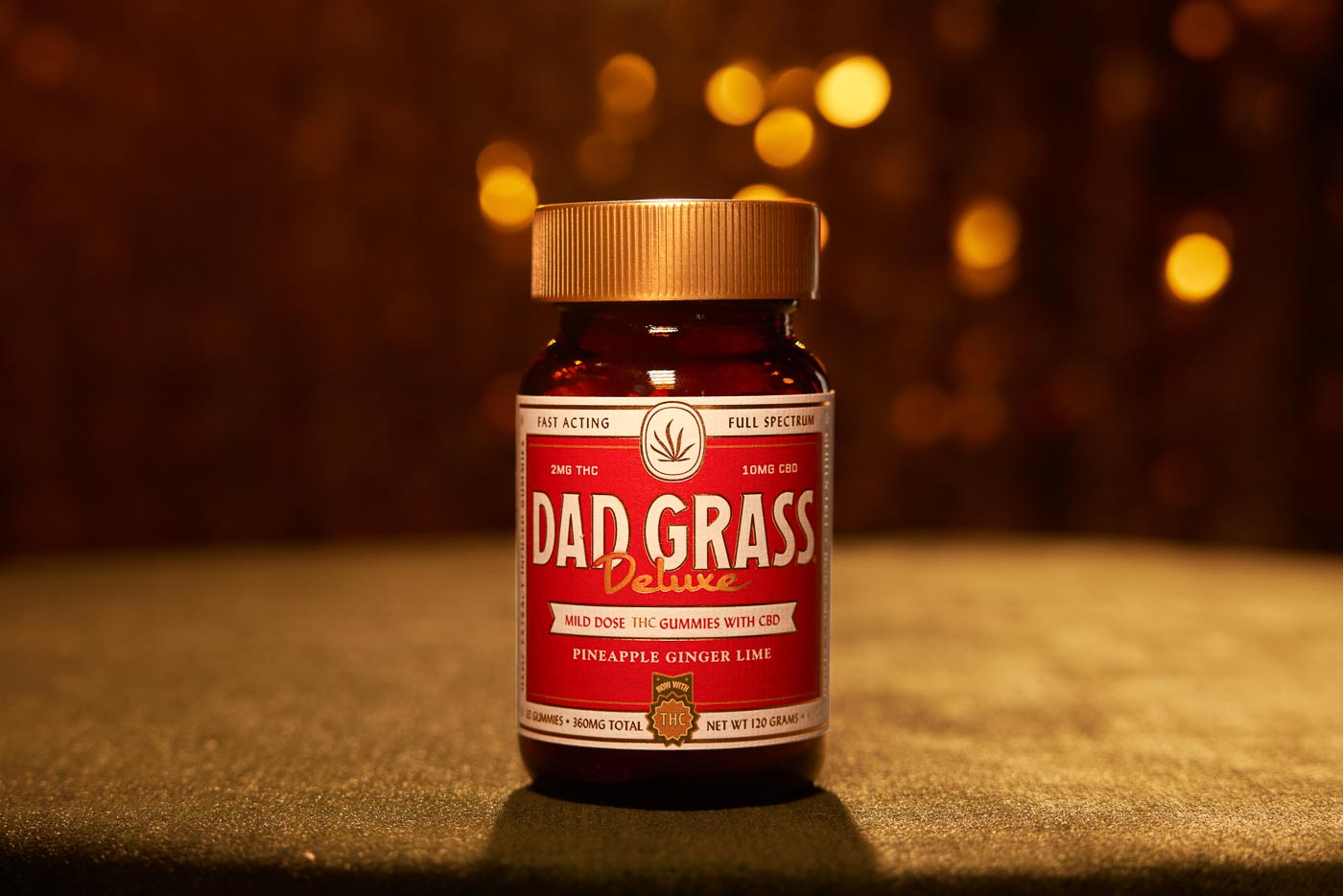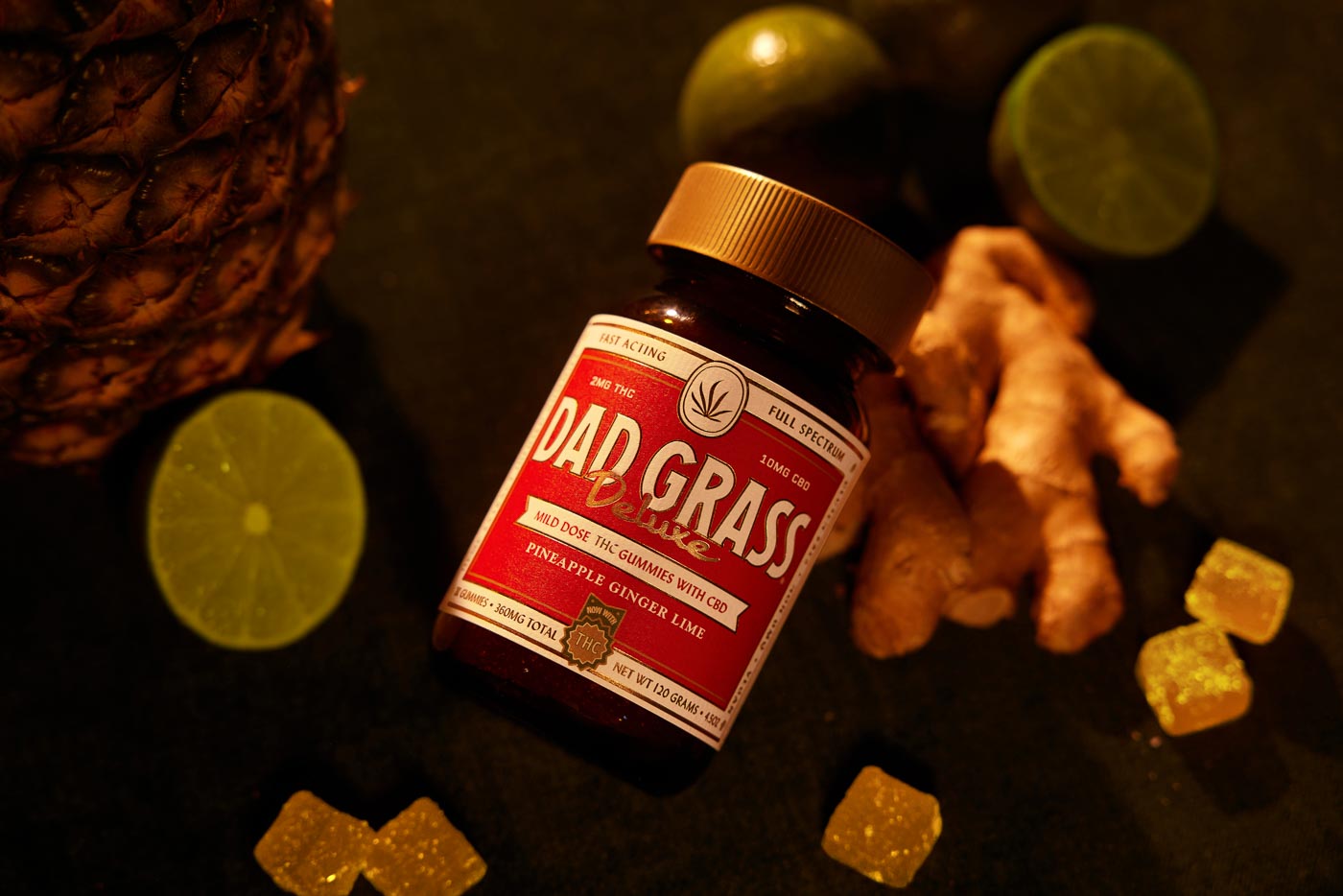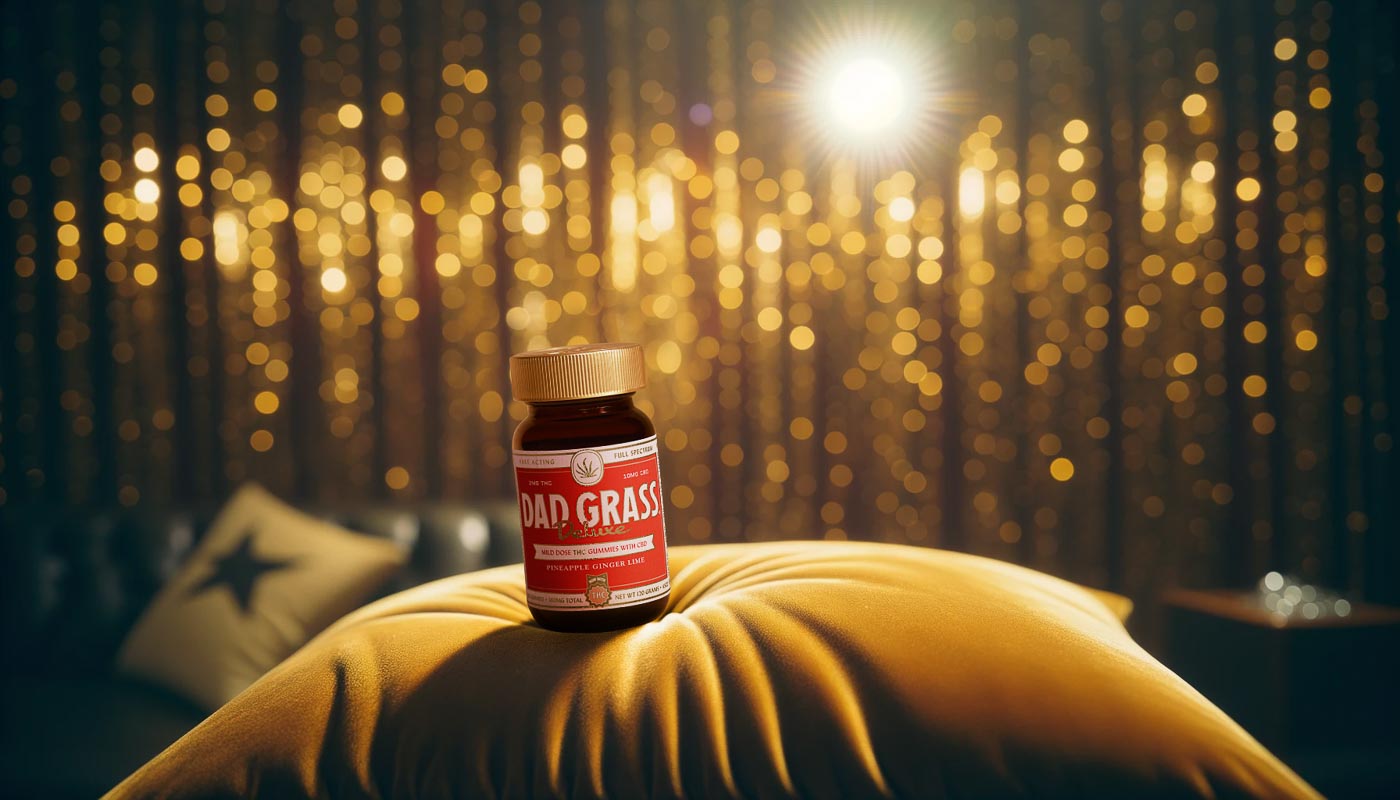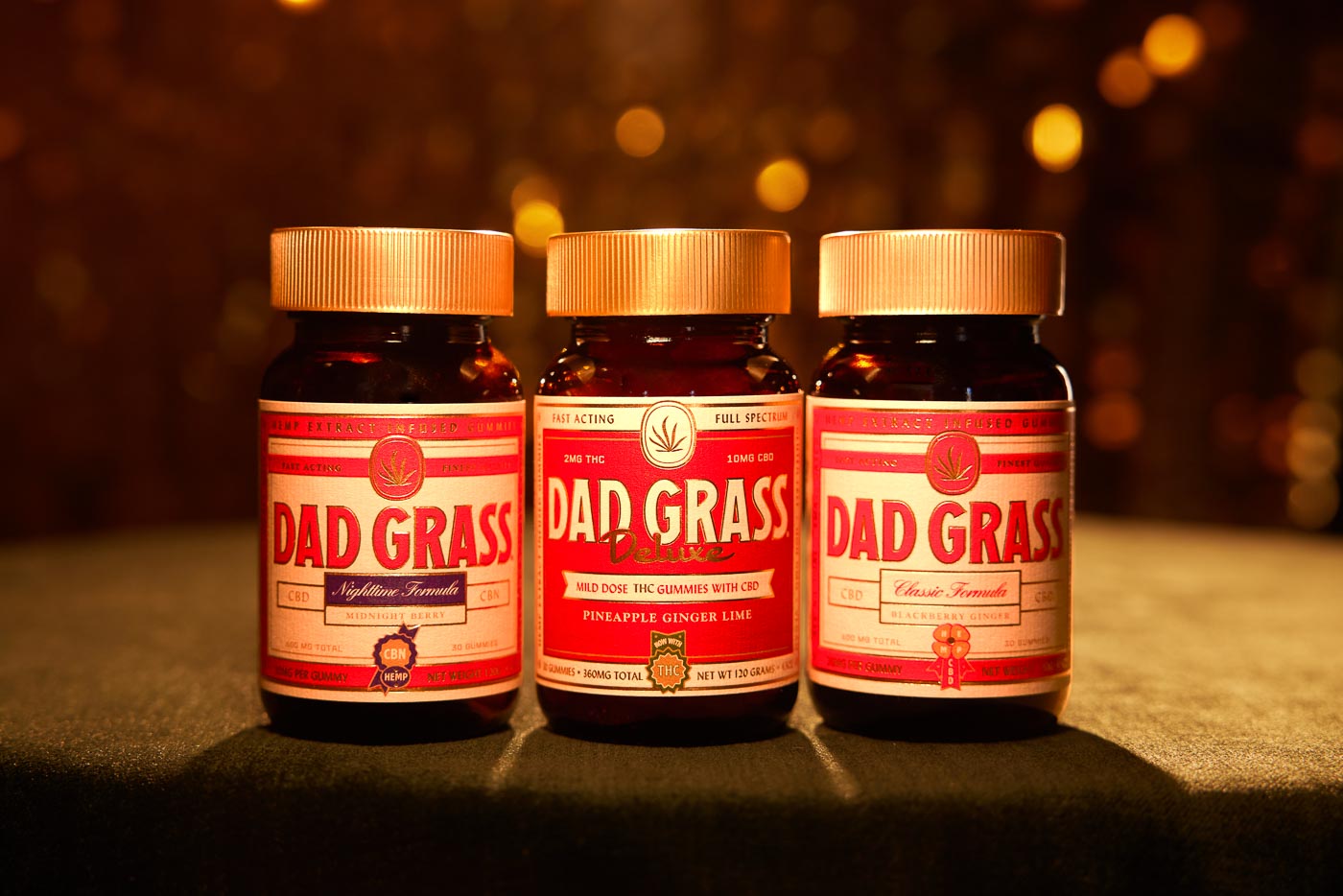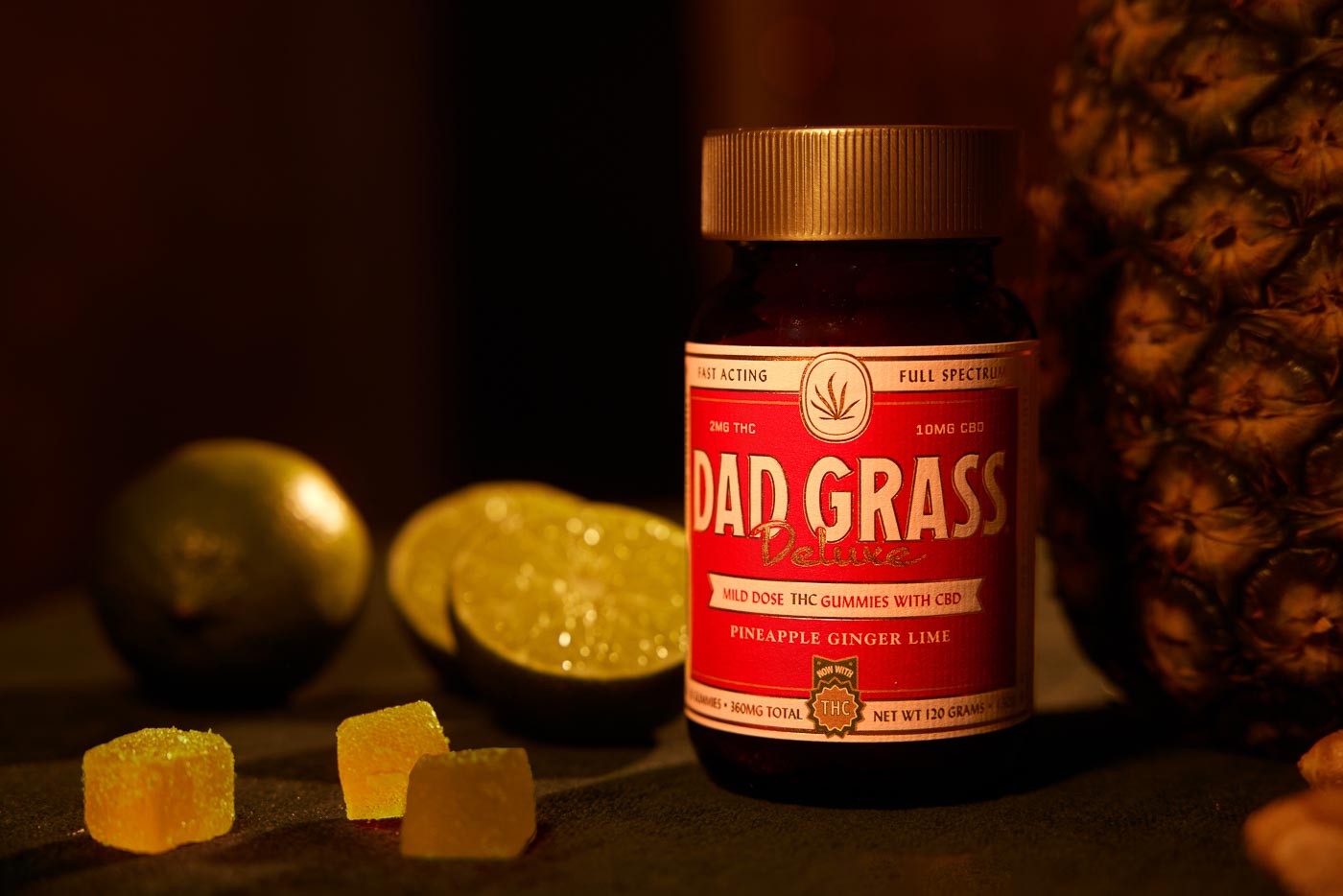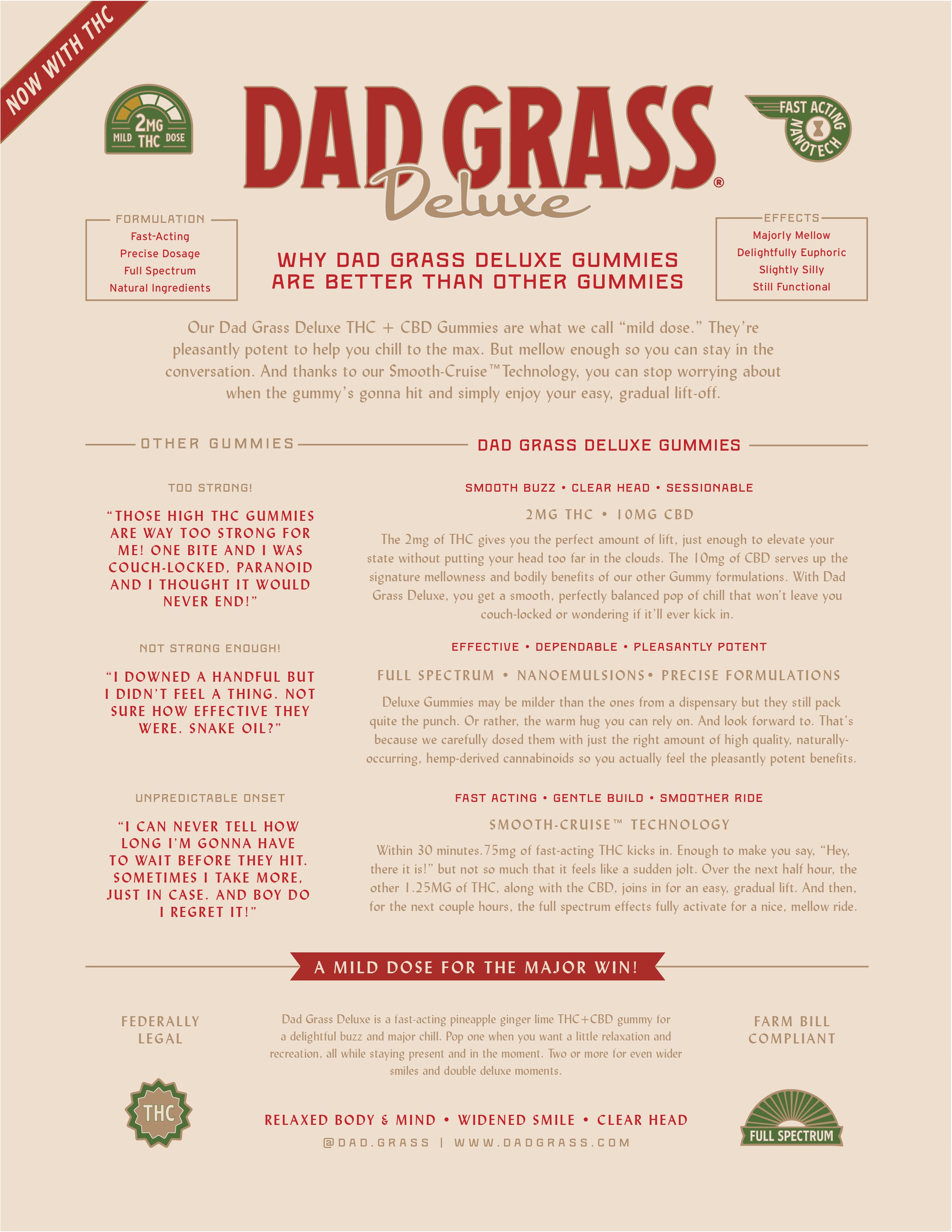 Dad Grass Deluxe THC + CBD Gummies - 6u Case
Description
But how do they feel?

TLDR

Dad Grass Deluxe is a fast-acting pineapple ginger lime THC+CBD gummy for a delightful buzz and major chill. The 10mg of CBD serves up the signature mellowness and bodily benefits of our other Gummy formulations while the 2mg of THC adds in the perfect amount of lift, just enough to elevate your state without putting your head in the clouds. Pop one when you want a little relaxation and recreation, all while staying present and in the moment. Two or more for even wider smiles and double deluxe moments.

Price Per Unit: $27.5
Suggested Retail Price: $55
This case contains 6 units.
Description
2MG THC + 10MG CBD Per Gummy (30ct per bottle)
Pineapple Ginger Lime Flavor
Fast Acting, Precisely Dosed (onset time within 20 minutes)
Full Spectrum
Federally Legal and 2018 Farm Bill Compliant
These 2mg THC gummies give you the perfect lift without putting your head in the clouds. They are fast acting, so you'll start to notice them in the first 15-30 minutes, and we've engineered them to come on gently, so they ramp into a pleasant buzz that you'll feel, without feeling out of control.  The anxiety and stress of the day will melt away, as your smile gets wider and wider.  And like all of our Dad Grass products, they are made from 100% organic hemp grown in the USA, are federally-legal and are farm bill compliant.
How can we make legal THC gummies that you can sell?  Thanks to the farm-bill of 2018, hemp products that contain less than .3% delta-9 THC on a dry-weight basis are federally legal.  These gummies contain 2mg of naturally occuring delta-9 THC per 4g gummy, which is well under the federal guideline of .3% on a dry-weight basis. "Delta-9" is the same THC you find in marijuana, but the only difference is that ours is naturally derived from hemp.  Hit us up with any questions and we'll give ya the scoop

Dad Grass Deluxe THC + CBD Gummies - 6u Case